Take Action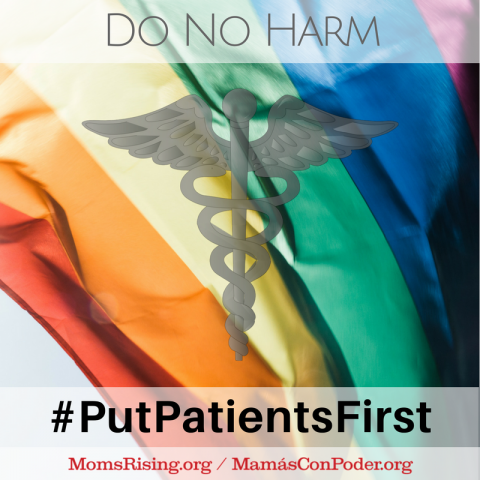 Tell the Trump Administration NO to discrimination in health care!
What the what?!
When it comes to health care, the patient should always come first. But a harmful and discriminatory rule proposed by the Trump Administration is opening the door to widespread discrimination toward women and LGBTQ+ people. Not okay. This
new proposed rule
would allow providers (hospitals, doctors, nurses, and other individuals and institutions) to deny patients standard medical care based on the providers' personal beliefs—not based on what is best for the patient. Truly a prescription for discrimination!
This is outrageous.
The personal religious beliefs of health care providers should never determine the care a patient receives. But instead of putting patients first, the Trump administration is trying to embolden a wide range of individuals and institutions with a license to discriminate, which is putting it lightly. Lives are on the line. The impact of this proposed rule would have far-reaching and yet unforeseen effects by allowing providers to deny patients access to critical care and open the door to widespread discrimination in virtually every part of the health care system.
(Can you imagine being denied a birth control prescription because your doctor disapproves of your sex life? Or how about a child being refused dental care because the dentist won't treat a child with two moms? It's time to stand up for fairness.)
Why is this important?
Well,
existing refusal of care laws
already allow health care providers 
to put their religious beliefs before patient care. The proposed rule would illegally expand those laws in dangerous new ways by allowing almost anyone who works in health care to refuse services of all kinds to patients (it also doesn't require the provider to refer patients elsewhere). This rule would mean patients across the country could
lose access to critical health care services
according to the whims of their provider's personal beliefs. Women will be denied access to standard medical care, especially those in small or rural towns (or who are in an emergency situation) where choice of providers is limited. Women suffering miscarriages can be denied critical treatment; hospitals can refuse to treat or refer someone who needs an abortion; women in need of the morning after pill can be turned away; and even transgender patients can be refused medical care.
The Department of Health and Human Services (DHHS) under the Trump Administration is up to no good with this proposed rule and they need to hear from YOU about why this rule is harmful and why they should get rid of it immediately. No one should be denied medical care or turned away from a hospital when they have urgent health needs. In addition, the proposed rule would sanction taxpayer-funded discrimination by allowing hospitals receiving government funding to deny medical care because of religious beliefs. Thinly-veiled, taxpayer-funded discrimination toward women and LGBTQ+ people has no place in the United States of America.
Freedom of religion is important, which is why it's already protected by the First Amendment of the Constitution. But that freedom doesn't give any of us the right to hurt people, impose one's beliefs on others, or to discriminate—which is what this proposed rule does.
The Trump Administration's proposed rule is
extremely broad
and encourages discrimination toward women and LGBTQ+ people with sweeping and dangerous exemptions which would allow anyone—even those remotely involved in treatment—to refuse care. This could be something as innocuous as scheduling an appointment for a woman seeking fertility treatment or serving lunch to a transgender patient in the hospital with the flu. LGBTQ+ patients especially face a disproportionate amount of
discrimination and mistreatment at doctors' offices
and this rule would codify this abhorrent behavior. 
We cannot allow health care providers and institutions to base patient care off of religious beliefs instead of what is scientifically and medically recommended—and, of course, in the best interest of the patient. A provider's religious beliefs should never be allowed to trump the beliefs of their patients, nor should they be allowed to refuse to treat patients in need of care. No one should be able to insert their religious beliefs into someone else's medical decisions.