Tell the NFL to reconsider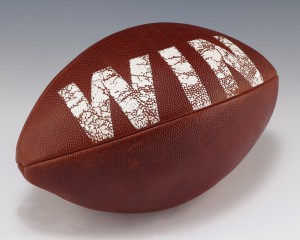 Donna, a Seattle Seahawks season ticket holder, is "disgusted."
In her email to us, she wrote:
"I would like to urge you to tell the National Football League (NFL) to reverse their decision not to share information about new health insurance options. The NFL promotes healthy living at their games and off the field—it makes no sense to promote one and not the other. They should have the courage to stand up to this handful of elected officials and let them know people are more important than the petty politics of Congress."
Donna wrote in reaction to our recent action alert about how some members of Congress had convinced the NFL and five other professional sports leagues not to provide information about the new, affordable health-coverage options available to millions of their fans beginning in October.
Ridiculous, right?!
We whole-heartedly agree with Donna that the NFL should reverse their ridiculous decision. In fact, we think the NFL should unite with thousands of MomsRising members who have joined our Wellness Wonder Team and pledged to share information about new, affordable health insurance coverage with their communities.
Click here to urge the NFL to join MomsRising's Wellness Wonder Team now: http://action.momsrising.org/sign/nfl_wwt/
Wellness Wonder Team members have signed up to share information about new, affordable health insurance options with at least ten people.
And we know that the NFL will have NO problem meeting that commitment! Last season, NFL broadcasts were seen by 200 million people, representing 80% of all television homes.[2] Millions of those viewers are uninsured and don't know that they might be eligible for free or low-cost coverage.
Football fans need the NFL to reconsider. Football is all about teamwork, and we need the NFL to join our team to help connect millions of uninsured parents with affordable health coverage. Professional sports teams have helped promote similar programs in the past—like the Medicaid Part D coverage and health reform in Massachusetts—because that's an effective way to reach many "hard to reach" audiences. And moms are asking them to help again.
Why would the NFL listen to moms? Because the NFL needs and wants us! Women are an important and growing segment of the NFL's fan base. A Dallas Cowboys executive vice president remarked, "We clearly get that our female fans are our consumers. They're really the ones that make our business tick."
Let's flex our mom power and ask the NFL to join our MomsRising Wellness Wonder Team today: http://action.momsrising.org/sign/nfl_wwt/
If busy moms and caretakers can pledge time to spread the good news about new health insurance options, the NFL can join our team too!