Take Action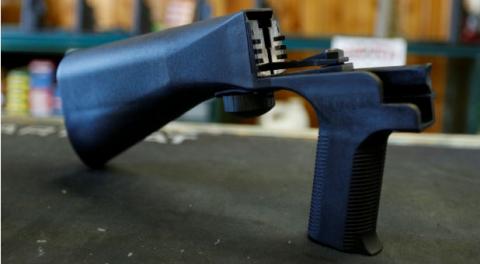 Tell the ATF: Ban Bump Stocks Now!
There is no reason that any American civilian should own bump stocks.
These deadly devices turn semiautomatic firearms into machine guns by enabling weapons to produce automatic fire with a single pull of a trigger. And machine guns do not belong on our streets.
The ATF has proposed a new rule that would ban bump stock-type devices by reclassifying them as "machine guns".  The new rule language is currently open for public comment, and we need your voice to help push it through! 
Tell the ATF that you support their proposed bump stock ban – these dangerous devices have no place in our communities. (Scroll down to P.S. for sample comment.)
Following the shooting in Las Vegas, which left 58 people dead and 851 injured, the NRA issued a statement demanding that bump stocks "be subject to additional regulations." And after the Parkland shooting, President Trump and the Justice Department both announced support for a ban of "all devices that turn legal weapons into illegal machine guns."
More than 80 percent of Americans support the ban. However, most of the comments to the ATF about the new rule are currently against the ban. We need to flood the ATF's comment collection with the opinion of the American majority!
Speak up for the American majority by sending your comment to the ATF in support of the bump stock ban. (Scroll down to P.S. for sample comment.)
Banning bump stocks is a small step toward sensible gun reform laws in the United States; the shooters in Sutherland Springs, Parkland, and Santa Fe did not use those devices. But can you imagine how much more deadly those attacks would have been if bump stocks had been used? 
For once, the government is siding with the majority of Americans on this issue: We cannot leave our country at risk of further tragedies on the scale of Las Vegas. It's past time that that voice is reflected in our laws. Tell the ATF you support the proposed bump stock ban:
https://www.regulations.gov/comment?D=ATF-2018-0002-0001 (Scroll down to P.S. for sample comment.)
*Please forward this comment collection link to your friends, family and neighbors, and also post it on social media. We cannot be the silent majority – the more of us speak up, the better chance we have to enact sensible gun policy. Here's that link again for you to share: https://www.regulations.gov/comment?D=ATF-2018-0002-0001
Together, we can take steps to support common-sense gun reform, and to prevent another Las Vegas from ever happening.
P.S. If you need some inspiration for your comment to submit to the ATF, check out this example from the Center for American Progress:
I urge ATF to finalize its proposed rule clarifying that bump fire stocks, along with other "conversion devices" that enable semiautomatic weapons to mimic automatic fire, qualify as "machine guns" under the National Firearms Act and are generally illegal to possess.