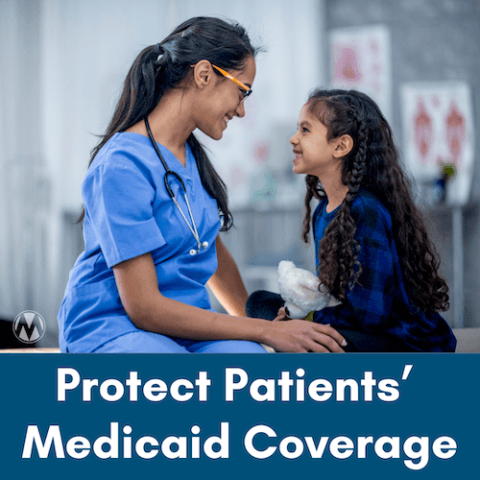 Tell Secretary Becerra to Protect Historic Healthcare Coverage Gains!
Right now, there is a quiet healthcare emergency happening. Nearly four million people have lost their Medicaid coverage, a third of whom are children! [1] Over the years, countless moms like Erin from Florida, have shared how critical Medicaid is for their families:
"My son was born with congenital heart defects. He had his first surgery at a week old, and was kept in the hospital for almost a month. He had open-heart surgery after a simple cath procedure didn't work when he was only 5 months old. Again, he was in the hospital for almost a month. He is now 5 years old, and he has a couple of other issues with his heart that his cardiologist is monitoring closely. He goes to doctors visits at least 3 times more than the average child. If we did not have Medicaid for him, I honestly don't know what we would do. The thought of losing his Medicaid TERRIFIES me."
SIGN OUR LETTER now to protect the healthcare of families like Erin's and millions of others. *When you click, you'll automatically sign on if we already have your information.
Why are millions of people losing Medicaid coverage?
When the pandemic began in early 2020, Congress enacted several laws to help people and states get through the public health emergency and economic crises. One law gave states additional federal Medicaid funding as long as they kept people enrolled in Medicaid coverage during the COVID-19 public health emergency (PHE). The nation's uninsured rate declined to a historic low of 7.7% in the first quarter of 2023, due in part to the continuous enrollment provision in Medicaid. [2]
Now that the public health emergency has officially ended, the requirement that states provide continuous coverage has ended as well. Tragically, millions of people are losing coverage because they do not realize they need to reenroll or have been deterred by complicated paperwork and administrative procedures imposed by many states.
While we are grateful to the Biden Administration for taking critical steps during the pandemic to make sure people didn't lose their insurance, we must urge the U.S. Secretary of Health and Human Services (HHS) Xavier Becerra to act again to protect Medicaid by providing more oversight of the states.
Whether it's for preventive care, physical or speech therapy, prenatal care, expensive medications, maintenance of a chronic condition, or nursing home care, Medicaid is a life-saving and life-sustaining health insurance program for over 84 Million people in the U.S. [3] It helps to keep our children, families, and communities healthy.
Add your name! Everyone deserves to receive health care when they get sick. No exceptions. Urge U.S. Secretary HHS Xavier Becerra to act again to protect Medicaid coverage! * When you click, you'll automatically sign on if we already have your information. 
These past few years have made it crystal clear that it is critical for everyone to have health care and that our neighbors' health is tied to our own. Medicaid ensures some of our most vulnerable family members and community members can access essential services like doctor visits, hospital stays, prescription drugs, and long-term/nursing home care.
The Medicaid program serves children, people who are disabled, elderly, or pregnant, and low-income individuals. It is also essential to reducing racial and ethnic disparities in health coverage. Nearly half of all births are paid for by Medicaid [4] and it provides health coverage for about 40% of all children in the U.S. [5] In addition, it is the single largest payer of behavioral health services. 
Concerns among experts are rising, suggesting that up to 15 million individuals across the country might face the loss of their health coverage, with children and individuals of color being disproportionately affected. [6] The situation could have been different—approximately 75% of those who have already experienced coverage loss did so because of administrative reasons, not due to their ineligibility. These reasons include issues like renewal notices not being sent to the correct addresses, people not understanding the notices, and mistakes or delays by state agencies. [7] It's time for HHS to provide more oversight to help our country ensure continued Medicaid coverage.
Don't forget to sign on! Urge Secretary Becerra to implement additional enforcement actions to protect our patients' continued access to care through Medicaid!
When you click, you'll automatically sign on to our petition that reads:
Dear Secretary Becerra, 
Thank you for taking strong steps to ensure that families had access to health coverage during the COVID-19 public health emergency. We need your action again to provide strong oversight of the states to ensure there is continued Medicaid coverage for our families!
We are deeply concerned about the recent loss of Medicaid coverage by nearly 3.8 million individuals, a figure that is likely an underestimate due to limited available data. Equally troubling is that the majority of these coverage losses stem from administrative issues. Based on data compiled by the Kaiser Family Foundation, it's evident that 73% of those disenrolled faced termination due to procedural factors. These issues within the administrative process highlight substantial challenges in various states, including the delivery of notices and renewal forms to enrollees, insufficient public education campaigns, inadequate support for individuals seeking to renew coverage, and other related obstacles. To ensure the safeguarding of patients' access to healthcare under the Medicaid program, we emphasize the necessity for enhanced transparency and stronger enforcement measures. Our specific calls to action for the administration include: 
Expedite the release of monthly data reports: The Centers for Medicare & Medicaid Services (CMS) should make sure that states' information is disclosed within 30 days of reporting, considering that the data unveiled today pertains only to April and represents data from merely 18 states. Urgent actions require timely information. 
Provide comprehensive details about enforcement actions: While CMS recently issued a fact sheet outlining its monitoring and oversight of states on July 18, stakeholders need precise information regarding states that have violated federal mandates and the subsequent resolutions. Such insights are vital for effective support and accountability.
Maximize the enforcement authority granted to the Secretary of Health and Human Services: Congress bestowed the Secretary with enforcement capabilities in December. In this context, the Secretary must enforce corrective action plans in instances where states fall short of federal requirements. Suspension of terminations for procedural causes and the imposition of civil monetary penalties should follow if submitted or implemented action plans are inadequate. Despite the time-consuming nature of this process, its prompt initiation is of paramount importance.
The more people who speak out, the bigger our impact. Please take a moment to share our action link with your friends and family: https://action.momsrising.org/sign/Medicaid-protection-emergency/
Thanks for taking action to protect the health and lives of the millions of people who are insured through Medicaid! Together we are a powerful voice for the health of families.