Take Action!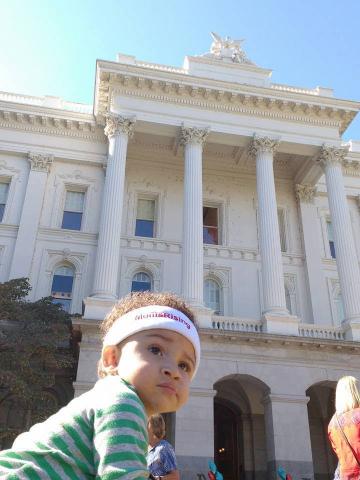 Tell Gov.-elect Newsom: Do BIG things for CA's Little Learners in 2019!
Anyone else needing an extra cup of coffee, and feeling a bit sluggish as we head back to work today?
The back to work + school + childcare grind is a struggle working families in California know all too well. Whether it's finding access to high-quality preschool, or finding a childcare slot for a new baby, the childcare dance is not the kind we want to rock out to on New Year's Eve.  
BUT WAIT! There's a bright spot we've all been waiting for: 2019 is starting strong with some great news on the horizon! In case you missed it, today it was announced that Governor-elect Gavin Newsom plans to allocate nearly $2 billion in funding towards early childhood programs when he releases his initial, proposed budget next week!
Join me in sending Governor-elect Newsom a warm welcome from California families, and let him know that we're counting on him to put kids first in 2019!
Here in our beautiful state of California, we only have ONE county that has adequate childcare spots to meet its need - and the average cost of childcare for my one-year-old exceeds the cost of in-state college tuition!
You may recall that this past June, previous Governor Jerry Brown signed a budget with a significant investment in increasing childcare slots for our families who need it most - yet we're still painfully underfunded compared to pre-recession rates, with 50,000 fewer childcare and preschool slots compared to 2007-2008.  That's why we are excited that Governor Newsom has plans to make significant strides for California's kids and families this year!
Let's join together and set a 2019 resolution: for ALL families to have access to high-quality, affordable early learning opportunities, like childcare and preschool! Tell Governor-elect Newsom: we're counting on you!
I'll be joining other local moms and families this Sunday to welcome Governor-elect Newsom to Sacramento, and I'd love to give him a warm MomsRising welcome from all of the kids, families, and community members who are looking to him to uphold his commitments to our youngest learners, and follow through on his 'cradle to career' plan for education.
We know that research shows children develop 80 percent of their brain by age 3, meaning that it is imperative for California to invest in a system that supports our kids from prenatal through college. According to a recent study from the Center for American Progress, 83% of parents with children under the age of five struggle to access affordable childcare for their children. Eighty-three percent!!! We know that when parents have safe, quality, and affordable options for care, they thrive in the workplace --  access to high-quality affordable childcare boosts parents, children, businesses, AND California's economy. It's a win-win-win-win!
Let's keep the momentum - make that MOMentum - moving in California. SIGN NOW to tell Governor-elect Newsom that we are excited to hear about his plans to invest in our littlest learners and urge him to keep up the MOMentum for California's kids and families!
I'm starting 2019 with a MOMumental goal: build a childcare and early learning system in California that supports all families. Will you join me? I'm optimistic at the dedication our Governor-elect has shown. Together, we can do this. Add your name here, and start 2019 strong for all of our little learners!