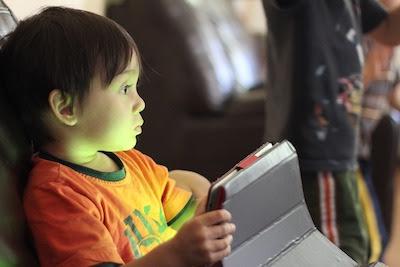 Tell Google: Kids Apps Should be for Kids, not Marketers!
Raise your hand if you agree: Apps for kids shouldn't serve deceptive ads, collect personal data, or trick children into making in-app purchases.
Both of my hands are way up!
But Google recommends a slew of "family-friendly" apps that do JUST THAT. Ugh. I'm so tired of the ads and tricks hidden in kids' apps, and it is time for a change.
Click this link to join our campaign and tell Google that apps should be for kids, not advertisers!
Apps can be a great learning tool for children. They can help our children do everything from learn their shapes to master a new language. That's great. My kids' favorites teach them Spanish, and let them draw and build things.
Google's Play Store offers a family section full of apps recommended for kids, with age ratings as low as "5 and under." These are the kinds of apps my family looks for! Parents like me are led to believe that the apps in this section are vetted by Google and safe for children, but … some scary news:
Google routinely recommends apps that illegally collect children's data, interrupt gameplay with deceptive advertising, pressure kids into making in-app purchases, and even model harmful behavior like cleaning your eyes with sharp objects.
Join us to tell Google: enough! Kids' apps should be for kids, not advertisers!
Examples of images kids can find in the "kid friendly" Apps recommended by Google:
Photo credit: Campaign for a Commercial-Free Childhood
We're asking Google to adopt the CCFC's Kids' App Store Standards – simple rules that require a human review of each app and ban in-app purchases, unfair advertising, and illegal data collection.
Why? Because parents should be able to trust that anything recommended "for children" is actually safe for children.
You might be wondering ... why does Google recommend these apps for kids? Profit! App developers target children with deceptive, unfair apps because it's a quick way to make a buck, and Google lets it happen because they get a cut of the cash. With millions of downloads per app, Google is making a fortune off of deceiving families and children like mine. Enough is enough.
MomsRising is proud to join a large coalition of parents and consumer rights organizations in asking Google to get its act together, and we need your voice to make as loud a splash as possible. Some of our partners have even filed a complaint with the FTC, and lawmakers including Senators Tom Udall (D-NM), Ed Markey (D-MA), and Richard Blumenthal (D-CT) and Representative David N. Cicilline (RI-01) have voiced their support as well. [1]
Let's add some parent pressure to this work. Please add your name to our petition calling on Google to adopt the Kids' App Store Standards now, and share with your friends and family too. 
Thank you for all you do. Together, we are a powerful voice for families!
 
[1] Read more from NBC News and the New York Times.