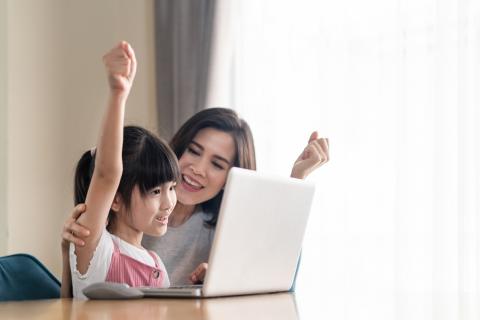 Tell Congress to Save the Child Tax Credit!
Did you hear that sigh of relief? Families across the country received their third Child Tax Credit payment!  Since July 15th, families with children have been receiving up to $300/month per child because of the expanded Child Tax Credit (CTC)! [1]
While this will help many families this year and could help lift as many as 50% of families out of poverty this year (!!), all the great improvements that have been made to the Child Tax Credit will disappear after a year unless Congress takes immediate action to make these improvements permanent.  
***We need you to speak out NOW! Sign our letter calling on Congress to make the improvements to the Child Tax Credit permanent for families, including low-income families!
Here's what's going on: Thanks to the American Rescue Plan, signed by President Biden in March, most families are getting monthly payments to help raise their kids in the form of the Child Tax Credit. How much money? For every child under the age of 6 families should be receiving  $300/month and for each child ages 6-17 should receive $250/month. Plus, now those of us who made little or no income in the past year will still be able to get the CTC! [2]  That's some serious cash that has already done some serious good in helping our families make ends meet during this difficult time. And we've already seen in just a few months that these checks are reducing hunger and poverty for families across the country. [3]
Here's the catch: Building off President Biden's Build Back Better plan, the U.S. House of Representatives is moving forward a plan to extend the expanded CTC to 2025 and ensure that low-income families will ALWAYS have access to the benefit. 
Yes, you heard me, ALWAYS. 
It will be up to the U.S. Senate and if they don't take action soon, all the great improvements to the Child Tax Credit will go away. We need your help to speak out! Please use your voice and sign our letter calling on the U.S. Senate to support the House's plan and permanently ensure low-income families benefit from the CTC. And while we are at it, let them hear loud and clear that children and families need investments in the full suite of programs that allow families to thrive: paid family and medical leave, child care, home and community-based services, and a pathway to citizenship.
***Just click here to sign our letter to Congress.
Right now, we have an opportunity like no other! Leaders in Congress are building upon President Biden's American Families Plan and moving a recovery package through Congress as we speak. Making the improvements to the Child Tax Credit permanent so it is fully available for low-income families is a big priority for families. We need your signature (and those of your friends and family!) to apply the pressure needed to guarantee your U.S. Senators support these important investments in the CTC and the broader care economy like paid family and medical leave, child care, and more!
Don't forget to sign our letter now and then forward this email to your friends and family to make sure they sign as well.
P.S. Do you have questions about the Child Tax Credit or are wondering how to apply to get it (you can get it even if you don't normally file taxes or make little to no income!!)? Don't worry…we have you covered. Just check out MomsRising's one-stop shop for all things CTC: www.momsrising.org/ChildTaxCredit. Please check out our Spanish CTC page as well to learn more!
References:
[1] CNBC. "Monthly Child Tax Credit payments begin July 15. Here's what parents need to know."
[2] MomsRising's Child Tax Credit page
[3] Forbes. "How Monthly Child Tax Payments are impacting Americans' Finances."