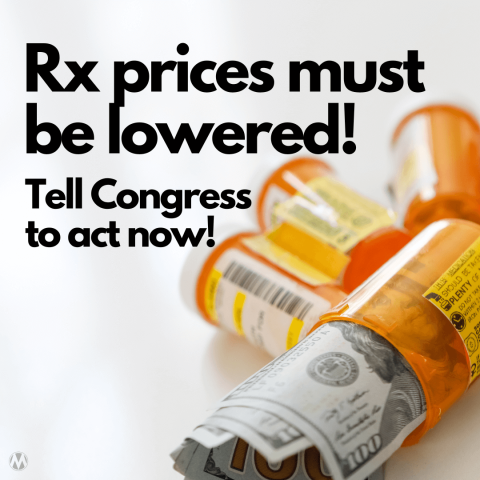 Tell Congress to save lives by lowering prescription drug prices!
Last week, thanks to the pressure that the Biden/Harris administration and congressional Democrats have been applying, the largest manufacturer of insulin in the United States, Eli Lilly, made a terrific announcement: They are capping patient costs for their insulin at $35 per month! [1] This victory shows that our voices and advocacy has a powerful impact. Now it's time to take the next steps to curb sky-high prescription drug costs for all medications and stop corporate price gouging.
Quick signature: We need Congress to act to save lives by lowering the price of all prescription drugs! When you click, you'll automatically sign on if we already have your information.
What's happening? In response to calls from moms, dads, caregivers, patients, and advocates, President Biden signed the Inflation Reduction Act into law last year which was a significant win for families and patients who rely on Medicare for their prescription drugs. The new law includes an out-of-pocket cap for prescription drugs of $2,000/year and a provision to restrict the cost of insulin to $35/month for patients enrolled in Medicare. [2] This is GREAT news! However, this is just the beginning. Congress needs to take further action to extend the benefits of prescription drug reforms—which are currently saving Medicare patients and taxpayers billions of dollars—to people of all age groups, ensuring that everyone can access reduced prescription drug prices, including insulin.
There are still too many Americans who cannot afford their prescription drugs. We should not have to rely on the generosity of profit-driven corporations to alleviate the burden of rapidly increasing medication expenses. And uninsured people have it the worst. They are much more likely to be charged the full list price for insulin and other medications than the privately insured, and are much less likely to be able to afford them.
Sign on! Life-saving and life-sustaining medication should be affordable for everyone who needs it. Click here to tell Congress to lower the price of prescription drugs!
During his State of the Union address, President Biden thankfully called on drug companies to finish the job of the Inflation Reduction Act and bring down insulin prices for patients. [3] But the truth is insulin is only one life-saving drug and there are more medications needed that Americans struggle to afford daily.
Congress, not corporations, should be leading the way to put patients ahead of pharmaceutical profits so that millions of Americans can afford the medicines they need regularly. We must urge lawmakers to build on the progress of the Inflation Reduction Act and take steps to make prescription medications affordable for everyone!
*Sign on now! Tell Congress to take meaningful action to lower the price of prescription drugs! When you click, you'll automatically sign on to our petition that says:
Dear member of Congress,
Everyone should be able to access and afford the medication they need in order to live a healthy, productive life. However, prescription drug prices have been rising significantly faster than inflation for years, putting life-saving medications out of reach for millions of Americans. Across the country, families are at risk for poor health outcomes because drug prices are preventing them from maintaining their health. We cannot stand silent as this continues.
To truly lower drug prices for everyone and end monopoly control of drug prices by corporations, people need you to help reduce their out-of-pocket costs! We need to lower the price of insulin and other life-saving and life-sustaining medications so that anyone who needs them can afford them. We urge you to take meaningful action to lower the price of prescription drugs for everyone!
Don't forget to sign on! Lives are at stake. We cannot sit by and continue to let pharmaceutical companies put profits before the lives of our family members and friends by giving them free rein on prescription drug prices. We need Congress to take action!
The more people who speak out, the bigger our impact. Please take a moment to share our action link with your friends and family and on social media: https://action.momsrising.org/sign/rxaction-postinsulin/