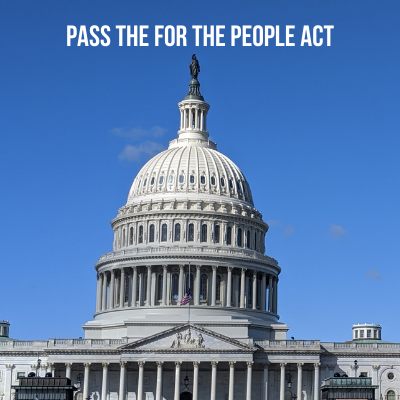 Tell Congress to pass the For the People Act
Recent years have shown us more than ever that who we elect to represent us has a big impact on our lives, our community, and our country. For too long, there have been assaults on our democracy. Unnecessary barriers to voting, gerrymandering, and intentional voter suppression of communities of color is locking too many people out of our political process, and big money and corporate interests still dominate our political system.
But right now, we have a chance to fix it. The For the People Act — the most sweeping democracy reform package seen in a generation — will be top priority for Congress. This is huge.
While it's clear that the new Congressional leadership understands the urgency of repairing our democracy, we need to make sure that all of our leaders know that fixing our democracy needs to be a top priority in 2021.
*Quick signature: Add your name to our letter asking your members of Congress to support the For the People Act of 2021!
What's the deal? If enacted into law, the For the People Act would:
Protect and expand access to the ballot, and break down barriers to exercising the right to vote through reforms like automatic voter registration and ending racially discriminatory voter purges.
Make representation in government more fair by ending partisan and racial gerrymandering.
Amplify the voices of ordinary Americans in our politics, now overwhelmingly dominated by a wealthy few, by establishing a small donor matching system for federal races.
Fight corruption by enacting new ethical standards for elected officials. 
These reforms will return power in our democracy where it belongs - to the people. We expect the vote on the For The People Act soon so there's no time to waste! In order for it to pass, we need you to make your voices heard.
*Sign on now: Urge your members of Congress to give power back to the people by passing the For the People Act!
The intentional voter suppression of communities of color must end. The barriers to voting and to democratic participation must be taken down. We want (and need) our democracy to bloom and thrive. It's time to make sure our democracy really works for the people. It's time to make sure every vote is counted.
And we know that if we want Congress to take on hard issues like health care, fair pay, childcare, criminal justice and policing reform, gun violence prevention, and paid family/medical leave, or the other priorities we need fixed, we need a democracy that works. This is our chance. Let's make sure that every member of Congress knows that having a strong democracy is a priority for their constituents.