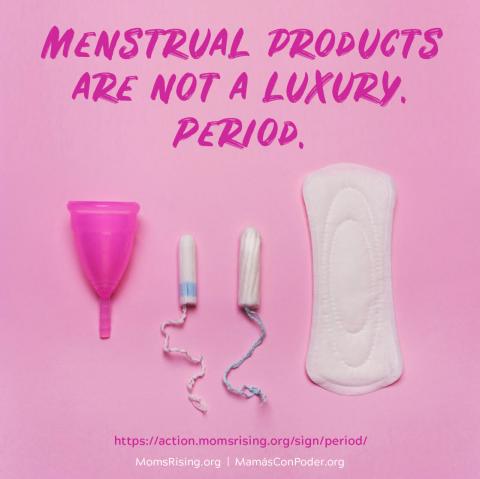 Tell Congress: Tampons + Pads + Menstrual cups ≠ luxury products
Period products are NOT a "luxury" item, yet the federal government (and many states) treat them like they are -- and that has a lot of negative repercussions in terms of cost, accessibility, and women's health. In full truth, when we need these products, they are a necessity, and can be quite expensive, which makes them inaccessible to many women in our communities. 
The average woman spends 2,535 days over her lifetime on her period.[1] That's nearly seven (yes seven!) years of her life of worrying if she has—and can afford—the necessary pad, tampon, or menstrual cup needed to get through the day. And trying to find a makeshift solution if she doesn't.
***Tell the U.S. Congress to pass the Menstrual Equity for All Act of 2019 and make it known that period supplies are NOT a "luxury" and are instead a basic need!
These "solutions" are rarely solutions at all. They include having to skip work, school, or be period shamed. Other times, the makeshift solutions lead to severe health problems, like toxic shock syndrome. This is especially true for incarcerated women, where 80 percent have had to use a homemade tampon and 88 percent had to resort to leaking blood.[2]
In the United States, menstrual products make up a $2 billion dollar industry.[3] This is not surprising, considering up to 86% of women use tampons, 72% use pads, and 75% use panty liners.[4] Menstrual hygiene products are also used on a monthly basis and it is estimated that a woman will use up to 16,000 tampons in her lifetime.
While women spend a significant amount of money purchasing menstruation hygiene products each year, these essential goods are still inaccessible for many. There are also no current government assistance programs to help offset the cost; programs like SNAP (food stamps) or WIC consider pads and tampons to be luxury goods and these products are not covered by most health insurance plans, including Medicaid. It doesn't have to be this way!
The Menstrual Equity for All Act aims to fix this by changing how we think of period products. Tell your U.S. member of Congress to support this essential legislation!
 Specifically, The Menstrual Equity for All Act works to do the following: 
Allow states to use federal grant funds to provide students with free menstrual hygiene products in schools;
Ensure that inmates and detainees incarcerated in federal (including immigration detention centers), state, and local facilitates have access to free menstrual hygiene products;
Allow homeless assistance providers to use grant funds that cover shelter necessities (such as blankets and toothbrushes) to also use those funds to purchase menstrual hygiene products;
Allowing individuals to use their own pre-tax dollars from their health flexible spending accounts to purchase menstrual hygiene products;
Require that Medicaid covers the cost of menstrual hygiene products for recipients;
Directing large employers (with 100 or more employees) to provide free menstrual hygiene products for their employees in the workplace; and
Requiring all public federal buildings, including buildings on the Capitol campus, provide free menstrual hygiene products in the restrooms.
Amazing!
We are so grateful that leaders, like Congresswoman Grace Meng (NY-06) are working to ensure that period products are accessible to those that need them. Now, Congress needs to pass this important legislation! 
Sign TODAY and tell Congress: menstrual products are not a luxury. Period.
Menstrual hygiene products impact not only a woman's health but self-esteem, education, and economic empowerment. Yet for many, these essential products are not accessible. 
It's time to fix that. 
***To make the biggest impact and get the word out about The Menstrual Equity for All Act, please pass this email on to your friends and family (or share the link on social media)! We also have a graphic for you to share on Instagram! Download it here and share with the world why you think Congress should make menstrual equity the law of the land!