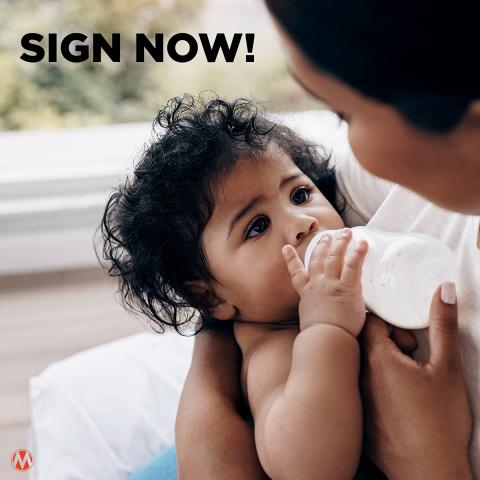 TELL CONGRESS: Take action to end the baby formula shortage!
The infant formula shortage has been going on for months now and we just learned that most states are experiencing a 74% out-of-stock rate, with 10 states seeing even higher rates near 90%. [1]
I know how scary and stressful this is for so many parents because I have a 9 month-old who relies on infant formula for his nutrition. But we need to turn our stress and outrage into action!
**Sign MomsRising's letter to Congress calling on them to take immediate action to address the infant formula shortage and prevent future shortages from happening!
Here's what's going on: We know many parents are still struggling to find the formula their babies need. Thankfully there are some positive steps being taken by the Biden Administration to address this crisis. President Biden launched Operation Fly Formula in late May and so far formula has been flying in from overseas and making its way to hospital and store shelves all over the country. And it is expected that more than 3.2 million additional bottles will be imported this month. [2] The USDA also announced that they will be offering nationwide waivers for WIC recipients so they can purchase any formula in stores they can find (unfortunately WIC families are still not able to purchase formula online though). [3]
So much of these actions are because of you! You signed our letter to President Biden and shared your stories on how your family is struggling with the formula shortage. We know that this is a very stressful time for so many people trying to find and afford formula. But we need to keep up the pressure because Congress must do more! In this urgent moment, it is critical that Congress does all it can to support infant nutrition security, including formula feeding, breastfeeding, or for many, a combination of both.
We need to make sure they pass emergency funding to address the immediate infant formula shortage AND take steps to prevent a future shortage from happening and ensure infant nutrition security.
***SIGN our letter now calling on Congress to take quick action to put an end to the infant formula shortage AND make sure this never happens again! 
Here's are the steps that we want Congress to take in the coming weeks:
Immediately pass the $28 million Infant Formula Supplemental Appropriations Act to support FDA in addressing product shortages and strengthening the agency's capacity to assure the safety of infant formula, especially as new products enter the domestic market.
Pass the Keep Infant Formula Safe and on the Shelves Act, which will improve product safety, maintain infant formula supply, and keep workers safe. This legislation would increase the Food and Drug Administration's (FDA) inspection frequency and reporting for infant formula manufacturing facilities, build a supply infrastructure to ensure that we have safe infant formula readily available, and clarify that the Defense Production Act can be invoked if any food-related shortages occur.
Build more redundancies into production lines to shore up national supply in the event of a manufacturing plant closure
Create stronger regulations on marketing by adopting the WHO Code on Breastmilk Substitutes, an international health framework adopted in 1981 and implemented by 136 countries.
Create an action plan to properly deal with future recalls, including provisions to promote interagency coordination in advance of a voluntary recall and efforts to strengthen options for WIC families.
Ensure parents are able to feed their babies formula, breastmilk, or a combination of both by supporting the immediate passage of the PUMP for Nursing Mothers Act so that mothers have break time and a private place to pump at work.
All of these actions are critical and should be taken ASAP! We plan to send our letter to the Hill next week, so after you add your signature, please forward this email to your friends and family and paste our action link to social media so everyone you know can sign on as well.
P.S. We also need your help to stop the spread of misinformation around the formula shortage on social media. Check out our social media toolkit where you will find awesome images and information that you can share with other parents on Twitter, Facebook, and Instagram to make sure parents know how to keep their little ones safe during the formula shortage.