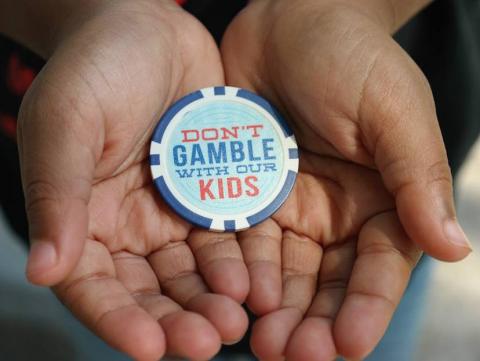 Tell Congress: Act quickly to fully extend CHIP!
It's been over 100 days since the GOP leadership in Congress let the Children's Health Insurance Program (CHIP) expire. With short-term patches and some creative budgeting, they've managed to limp funding along, but the time is up and the health and well-being of our children is at stake.
Leaders from both sides of the aisle have agreed to a full 5 year extension of CHIP, they just have to stop playing partisan politics with children's health and pass it! On January 19th, Congress will vote on a new spending bill and it must include long-term funding for CHIP! States can't rely on limited patchwork funding and families can't afford to go without coverage for their kids.
CHIP historically has been one of the few programs that has bipartisan support in Congress. Since its inception in 1997, Congress has never let funding for the program lapse like this, and there is no excuse worthy of risking the health of the
9 million children
that the program covers.
These short-term funding patches don't cut it when it comes to providing reliable health coverage for children and pregnant women. Some states have
already begun notifying families
that their coverage could end and if Congress allows funding to run out, they'll have no choice but to cancel coverage. In addition, states have not been able to plan their budgets as the funding for CHIP is uncertain.
What is CHIP?
CHIP is crucial to children's health care. It helps to cover children who fall into a gap—their families
make too much to qualify for Medicaid
, but they also cannot afford private health insurance. In addition, CHIP helps to provide support for children with special health care needs and to reduce disparities in coverage for communities of color—more than
half of Hispanic and Black children
are covered through CHIP and Medicaid.
Anything less than a fully-funded, 5-year extension of CHIP is inexcusable. No more temporary patches. Hard-working families can't afford to have uncertainty about whether their children will have health insurance and states can't rely on limited patchwork funding, which is why it's imperative for Congress to act NOW!
Children and families across the country are counting on Congress to extend CHIP quickly. They cannot wait another day.