Tears and Prayers at the NRA
I have thought a lot about what happened to/with me at the vigil at the NRA on March 14—and how my story might help inform and move people. I'm offer here a little more detail for what I hope is a contribution to the issue of the price families pay for America's approach to guns, which is oddly both cavalier and arrogant. I hope something good comes of my sharing my story.
Tears and Prayers at the NRA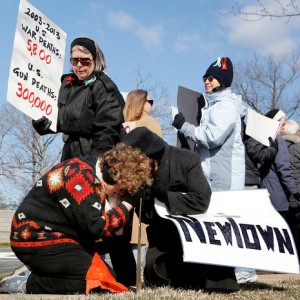 On March 14, the third-month "anniversary" of Newtown, I went with the Reston-Herndon Alliance to End Gun Violence and members of my members of my United Christian Parish Justice Taskforce for our regular monthly vigil in front of the NRA's headquarters. While marching, I met Gloria from MomsRising, who asked: "Has anyone in your family been impacted by gun violence?" I think I laughed and/or frowned. As she just stood and waited, I had to check: "Are you joking?  Who on earth hasn't been?"
Later I realized, oh yeah, I was in Fairfax County, around a lot of middle to upper class people, mostly white, who are largely protected from the constant assault of guns experienced daily around the world, esp. on poorer neighborhoods from Damascus to DC to even parts of Reston.  However, from my experience mostly in DC from 30-plus years in ministry and organizing work for racial justice, EVERYONE I know knows someone "disappeared" or damaged by gun violence--people left with medical bills, lost pay and jobs, traumatized children and schools, or waiting for loved ones to come home from jail because of bad decisions made out of desperation to provide for or defend their families.
My own question would be "Who in Our Human Family has NOT been impacted by gun violence?" And here's my story. Please know that what I've been through is nothing, NOTHING like what my nieces have gone through.  Murder doesn't just destroy an individual—it is toxic to families for generations.
My nephew, Ian, an absolute sweetheart of a tall, blond, gangly 18-year-old Tar Heels fan, just out of high school, was killed with a shotgun in NC, about 10 years ago or so. After having fallen asleep in a neighbor's basement game room, Ian apparently was woken in the middle of the night by two men breaking in--and shot in the back. They may have been burglars, maybe drug dealers. His killers were never caught.
Ian's father, "Big Ian", my oldest brother, became something of a "mess in orbit"—not standing still long enough to be a basket case. His ex-wife, Little Ian's mother was maybe even more devastated.  So were his daughters.  Thank God our parents had died for they had already lost our little brother to a drunk driver.
Ian's first words to me when I got down there for the funeral were "This can't be happening again, is it?" He was put on antidepressants and we think may have triggered a manic reaction. He threw himself body and soul into a business making magnificent mahogany wine cabinets, and then into another business designing even more amazing yachts. And every night he put away a lot, a WHOLE lot, of rum cokes.
Looking back, every October after Little Ian's October death, Big Ian seemed to have a crisis. Believing in him, I would try to make sense of his long, run-on, almost nonsensical phone calls, and once even scraped up money for his making payroll. But within two years, he was not speaking to his daughters—or me.  We all struggled with depression and …life.
Within three years, Ian had mortgaged and lost to bankruptcy his businesses and our family home of almost a hundred years. He disappeared to what we learned eventually (with the help of the State Department) was Brazil.  Just to make things really fun and interesting, during this time, my other brother, Evan, was diagnosed with fourth-stage colon and liver cancer. Evan begged me to try to find Ian from whom he'd been estranged much of their adult lives. I was highly motivated to find him--bugging, suspecting, even accosting his friends and former business partners for a year, but couldn't manage to.
A year later, by the strangest of ways the world works, the county police (where Ian had lived) contacted my niece (by way of someone who knew someone who  knew Ian) to tell her that police in Barbados had the dead body of a 6'6" dark-haired 50-ish year-old white man, who had checked out a gun at a fancy "gun club" and shot himself in the head.  A week later his body and a packed suitcase left in a hotel were connected. In the suitcase was no ID, but there was a piece of paper with a string of numbers identified to be for a US passport.
Who is to say what's harder on a family—murder? Or suicide? Or a slow death by cancer? At least we are trying to prevent cancer by controlling/taxing cigarettes, holding tobacco companies responsible, etc.
I could tell you so much more. Particularly sweet is my last memory of Little Ian, just a month before he died. We were at his older sister's grand wedding in the Duke Chapel. Little Ian, sort of a "country" kind of guy, walked up to me in his tuxedo and bowed to his weird, city aunt ["The Liberal"] and asked her to dance. I don't remember the music—it was from his generation, not the 60s which I'd have recognized, but it was really, really fun--and common ground. My one and only dance with him.
And Big Ian now has two grandsons—one the absolute spitting image of him, who I get to watch growing up from afar—on Facebook.
Sigh. Guess this is the gist of it.
But maybe I should add that I didn't come through this nightmare all that well myself.  I ended up making a mess of my career in ministry, as I tried to tend to all these family crises over the worst of those four-five years, while getting two kids through college, helping to start an antiracism alliance and a cohousing community, and teaching at Montgomery College. Despite appearances, we Davises actually like to live—maybe even more than the Average Bear.
And life goes on. I married "up" to a wonderful loving man with a wonderful--living--family and have a pretty comfortable life in Reston. I don't have to worry about gun violence anymore—do I? But then came/comes Phoenix, Aurora, Newtown….
That is why I was there freezing my butt off outside the NRA, circling with others on the Waples Mill Road sidewalk—esp. with the support of members of my church, because the church is another place I have found family again—and a peace and justice vision worth living and working for.
I'd never gone down on my knees in prayer in public by myself before. But that morning, I was overcome with how powerless we were, as we circled politely on the sidewalk, against that huge "dark" NRA building and its huge gun lobby and the huge weapons industry—and all the American pride, determination and arrogance they represent to me.
How unnecessary it seemed to be to show our signs to passing drivers when some 70 percent of them, I gather, agree with me that we need at least to try to track the sale, flow and use of guns to kill other human beings.
So, I turned toward the NRA—with my "Please, No More Blood" sign.  I found myself just sinking to my knees as I thought, "Dear God, they are just trying to protect their families too."  And then the tears came, and all the pain and memories.
And then came the kind hands on my shoulders, the shared prayers with others, and finally help getting back up on my feet again.  (I could smile again, because as I stood up, I had a new prayer: "Please God, helpme  get this old body up off the ground--as gracefully as possible. I need to get on with this thing."
So I share the story of my love for my brothers and nephew and nieces and life...and how real, and deep and far-spreading, even for a fairly privileged old(er) white lady, is the pain and violence and trauma caused by our American willingness to allow the willy-nilly proliferation of guns.
Seems to me that some of our desire for control and illusions of safety and in the world are tragically devastating to others.
And that we are in radical denial about the costs of the desperations and distresses of men, men of ALL shades of skin/classes, and we have got to talk more about their mental health/balance needs (including those of our veterans) and what our world is doing to them.
Finally, we also seem to be tragically afraid or just unwilling to find ways to share our pain OR our blessings and bounty with each other. Can't we come together in a little more understanding and trust that no one wants to hurt like this?