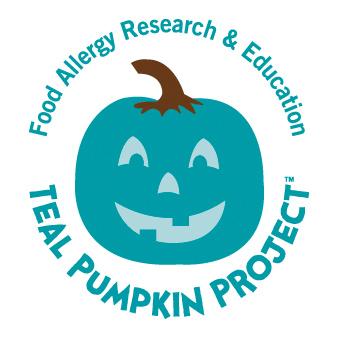 Teal Pumpkin Project Makes Halloween Safe for Children with Food Allergies
Halloween is lurking around the corner. But for some families, it isn't the chill in the air, haunted houses or costumes that have them scared. For parents of children living with severe allergies, it's the possibility of their child ingesting a lethal allergen which could ultimately lead death.
According to FARE (Food Allergy Research & Education), "severe food allergies affect 1 in every 13 children" and approximately "every three minutes, a food allergy reaction sends someone to the emergency room. That is more than 200,000 emergency department visits per year. "
For parents of children with severe food allergies, an Epi-Pen is always within reach as it is the first line of defense to treat a severe allergic reaction which can "range from a mild response (such as an itchy mouth) to anaphylaxis, a severe and potentially deadly reaction" (FARE).
This Halloween, make a promise to keep all kids healthy and safe by signing the Teal Pumpkin Project Pledge. Teal is the color of food allergy awareness which been used to raise awareness about this serious medical condition for nearly 20 years.
The purpose of the Teal Pumpkin Project is not to penalize kids with severe allergies or take the fun Halloween tradition of trick-or-treating. It simply offers an alternative way to make Halloween safer and healthier for all children, including children with diabetes or celiac disease who can participate safely by choosing a non-food option instead of candy.
This Halloween, help spread the Teal Pumpkin Project's message of a healthier, safer, happier Halloween for all children through a variety of methods.
Ways to Get Involved in the Teal Pumpkin Project
Sign the Teal Pumpkin Project Pledge.
Purchase some inexpensive toys such as glow sticks or bubbles.
Paint a pumpkin teal to place in front of your home and/or a free printable sign from FARE to indicate you have non-food treats available
Download FARE's promotional flyer  other free materials such as yard signs and stickers to show your support.
Add your street to the Teal Pumpkin Project Map, a crowd sourcing tool, to let others know in your community that you are offering non-food treats.
Ask your friends, classmates, teachers and neighbors to pledge their support for the Teal Pumpkin Project™.
Share tweets, Instagram posts and Facebook posts with the hashtag #tealpumpkinproject to help spread the word.
Reach out to your local library, dentist/doctor offices and schools to see if they would be willing to help the word about the Teal Pumpkin Project Pledge.
Make a donation and receive a free Teal Pumpkin Project window cling.
Host a Teal Pumpkin Project inspired fundraising event to support FARE
Order an official Teal Pumpkin Project Trick-Or-Treat Goodie Bag that includes a fun selection of non-food treats, a pumpkin stencil, support poster, cool trick-or-treat bag, and more. The TEAL PUMPKIN PROJECT and the Teal Pumpkin Image are trademarks of Food Allergy Research & Education (FARE). For food allergy updates and more information on the Teal Pumpkin Project, follow FARE on Twitter, Facebook, Instagram, Pinterest and YouTube.