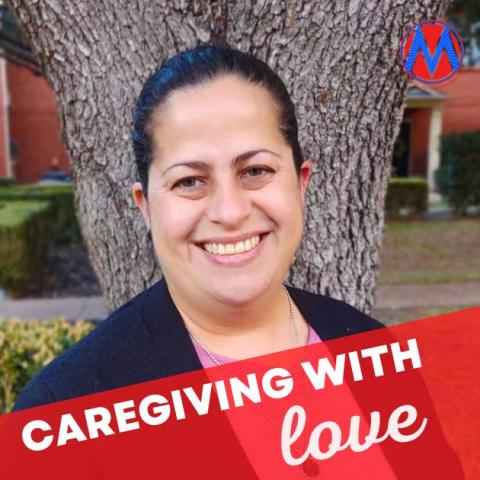 Teaching With Love: Martha
Born and raised in Mexico City, Martha Mouret-Sanders never imagined one day she would have to leave her family and home behind. Until one spring morning on her way to her college classes. 
"I came to this country in 2001 after being kidnapped. My parents, after that situation, they didn't think it was safe there."
She applied for a student visa instead of seeking asylum since the process is lengthy and wouldn't guarantee her immediate status in the U.S.
Mouret-Sanders enrolled at Texas Tech University where she had to face new challenges. 
"In that moment when I came and I became a student at Texas Tech, I didn't know English. I learned English because my goal was to graduate," Mouret-Sanders said. 
After graduating with three bachelor's degrees and two masters degrees, Mouret-Sanders began to work. She transitioned from a student visa to a work visa. 
Throughout her career she has worked in education and higher education, helping students from low income homes learn about going to college. During the pandemic she transitioned to teaching full-time at Dallas Independent School District which was experiencing a teacher shortage and in need of bilingual educators. 
Mouret-Sanders used her experience to help her students through language barriers, immigration issues, and the pandemic. 
"It was about 25 students per class. I had four classes last year and we had to be meeting with parents and then the students," Mouret-Sanders said. 
Despite the obstacles, she still managed to inspire her students and get them talking about going to college. 
"I started college fridays where I talk to my students about college opportunities and different types of universities, different types of colleges, different careers," Mouret-Sanders said. 
Following the pandemic Mouret-Sanders was forced to return to Mexico while she awaits approval for permanent residency, leaving a gap in the education workforce. 
"We just want to help. And it's not only myself but I'm pretty sure everybody, all the immigrants in this country, they are coming here and we are very thankful for being here and we want to help the country."
We wouldn't have been able to make it through the pandemic, our children wouldn't have been able to manage virtual learning, without wonderful teachers like Martha! Want to know how you can help caregivers like Martha?
SIGN ON and tell Congress to take real steps to help and protect immigrants right now! 
P.S. Please take a minute to share a story of an immigrant family member or community member, neighbor, co-worker, caregiver or other immigrant in your life.