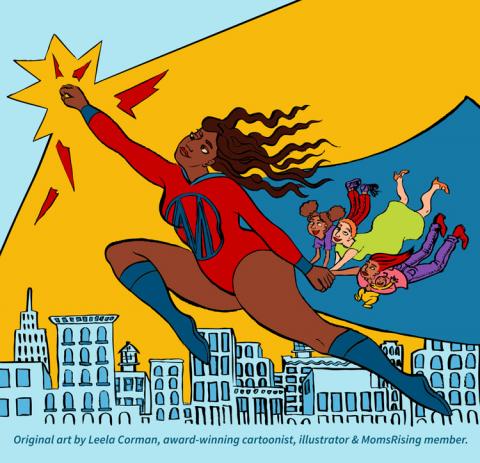 TBear Rising: An Interview with Volunteer Super Mom Organizer Toshia
"This experience has been life-changing, I am so glad I decided to apply. MomsRising gives you so much support and encouragement." 
#WeAreMomsRising uses personal stories to showcase what it means to be a mom, a woman, and a family member in America. 
Today's #WeAreMomsRising story comes from Toshia in Georgia. Toshia is a Beacon Community Hub Leader, part of a network of volunteer Super Mom organizers partnering with MomsRising to develop leadership skills, build mom power in their communities, and make change at the local, state, and national levels. To learn more about the Beacon program, email keepmarching@momsrising.org.
What is your spirit animal?
My spirit animal is a bear. I have always felt more connected to bears. My maiden name is Berry and throughout my life my name was often shortened to TBerr for school logins or usernames. For fun as a kid I was called TBear. I still use it! And I still love stuffed bears from my grandparents and bear knick-knacks. The bear is a symbol of strength, power, courage, and being grounded. Bears also hibernate and are fluffy so what's not to love or relate about that?
Who has influenced who you are, what you believe in, and what you're committed to in work and life?
I have a big family and they all influenced who I am today. I think being a mom is my biggest influence though. I want a better world and life for my kids. I want them to see me fighting the fight for other humans and want to do it, too. I want them to see human lactation, women's health, and reproductive rights as normal, as a strength, and want to fight for it. I have 4 boys and I take my job to raise them to be good humans very seriously.
What might someone be surprised to know about you?
I love taking pictures of nature, old buildings, landscapes, etc. I took the photos in the collage photo I am sending with my interview. It is just a hobby but I find joy and feel most at peace in nature.
What's your superpower?
I would say I have a superpower of knowing people's true intentions as well as patience. I've always been the "introverted quiet girl" and I learned being quiet is a great way to truly listen to people, listen to what they left unsaid and truly find the connection between us all. People can say one thing but actually feel the complete opposite and intend to not act on what they say they will act on. If we patiently listen and watch we can then figure out the why as well.
Why did you become a MomsRising Beacon?
I became a MomsRising Beacon to make a true difference in my community, state, and the country. It is one thing to sign a petition or share a meaningful post on social media that reflects your shared views and something else entirely to take action and push forward to get policies changed and make real change. I was ready to take the next step and get to work.
What's been one of your favorite activities as a MomsRising Beacon?
I loved the first event I did for Mother's Day and Paid Leave. It was the very first one and really pushed me out of my comfort zone. I have a meeting coming up to speak in person on Reproductive Rights and while nervous I am still very excited for this next step.
What would you say to someone considering becoming a MomsRising Beacon?
No matter your experience or comfort level, do it! This experience has been life-changing, I am so glad I decided to apply. MomsRising gives you so much support and encouragement and makes everything bite size and lets you do it at your pace and comfort level. Also, you are NOT alone! There are Beacons all over the US who are here and willing and ready to assist or join you in this mission.
Something I am looking forward to is…
Some things in the works: changing career fields from lactation to cybersecurity and possibly somehow merging the two together as the future is ever-changing. I recently started college at UMGC for Cybersecurity Technology and I truly LOVE my job with Nest Collaborative and look forward to that every day. I am also looking forward to Mom Life.
My kids are in soccer and as they get older and the exhaustion of having babies, toddlers, and preschoolers fades the true joy is happening watching them grow, seeing them experience the world, form their own opinions and share their own observations. It's a true privilege as a parent.