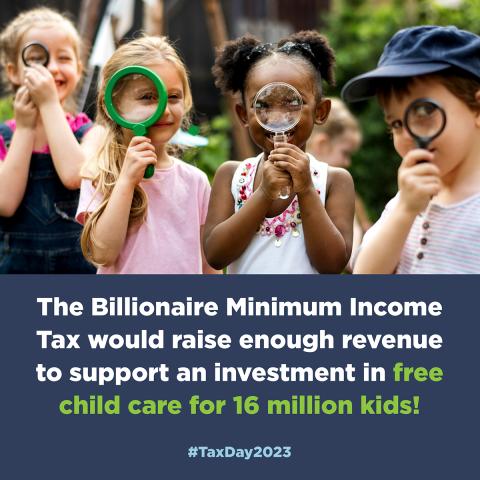 TAX THE RICH - Sign now, For the Kids!
Today is Tax Day (Hey did you file your taxes yet??) and we have a BIG message for Congress: Families shouldn't be the only ones to pay taxes. Make sure you also tax the super wealthy and mega corporations in order to pay for childcare, paid leave, and care for the aging and people with disabilities!
Our plan is quite simple: we need the Congress to make the super rich and big corporations pay their fair share in taxes so our families can get the policies they need and deserve.
SIGN OUR LETTER to Congress calling on them to #TaxTheRich this Tax Day!
All of us will need to care for ourselves or a loved one at some point in our lives. Care work is the work upon which all other work depends, and which holds up our economy. But care costs too much for families to afford, even as care workers – overwhelmingly women and disproportionately women of color – are not paid enough to support themselves and their own families. Individuals and families can't solve the care crisis on their own. We need to treat care as a public good, which requires public investments passed by our leaders in Congress.
The truth is our economy will not be able to fully recover and thrive if moms, women and caretakers continue to be crushed by the lack of investments in the care economy. Corporations and the wealthy have benefited from women's underpaid and undervalued labor and from our antiquated and inequitable tax laws–not to mention making tons of money and thriving during COVID while our families could barely keep their heads above water. In fact, many of America's top companies saw record profits during the height of the pandemic but rather than raising the wages of their workers, they passed those profits on to their shareholders. [1] And two years into the COVID pandemic found U.S.'s billionaires 57% richer! [2]
All of these reasons are why the super wealthy and big corporations should be required to pay their fair share in taxes!
SIGN OUR LETTER now calling on Congress to use this Tax Day as a starting point to make sure the super wealthy and big corporations pay their fair share in taxes in order to fund the care economy!
A number of lawmakers have said that it's too expensive to make investments in care policies but we know that's not true – in fact the opposite is true because studies show that investing in the care infrastructure helps create jobs, boost businesses and the economy, and help address supply chain issues. And we absolutely can raise revenues to support care investments by making sure the wealthy and big corporations pay a fairer share of taxes. In fact, we've already done it! The Inflation Reduction Act, which passed last year, showed that we can raise revenues (by guaranteeing wealthy corporations pay more of their fair share in taxes) and make historic investments in health care and to address climate change.
We can build on this recent success and help all our families thrive. There are dozens of ways to raise more federal revenues and make the tax code fairer and more equitable. For example, if Congress passes the Billionaire Minimum Income Tax we would have enough money for all workers to have 12 weeks of paid family and medical leave. We could also pay for free child care for 16 million children and provide fair wages for childcare workers.
There is so much we can do when we #TaxTheRich! Don't forget to sign our letter to Congress now and then forward this email to your friends and family and post our action link on social media so everyone you know can take action too!
Thank you for taking action for our children and families!!