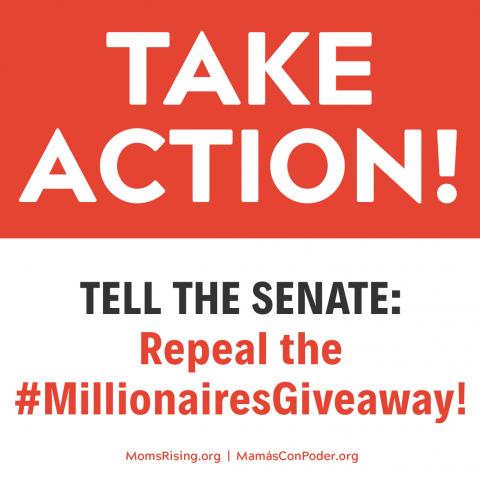 Tax cuts for millionaires won't cure COVID-19!
With unemployment numbers reaching levels we haven't seen since the Great Depression and lines for food banks wrapping around the block, it doesn't seem like it's too much to ask that funding for COVID-19 relief be targeted at those most in need, not the super wealthy.
But the GOP always has a way to sneak in tax cuts for their super wealthy cronies and they did it again with the CARES Act!
***SIGN OUR LETTER NOW calling on Congress to repeal the #MillionairesGiveaway and instead pass working family tax credits that boost struggling families!
Here's what's going on: Congress passed the CARES Act back in late March. This $2 trillion COVID-19 aid package was meant to support struggling families and provide needed assistance to small businesses and cash-strapped states (and, for the most part, it did!). But somehow GOP leaders were able to sneak in an obscure provision allowing wealthy owners of certain businesses (like real estate firms and hedge funds) to receive huge tax savings and refunds, allowing rich business owners to exploit losses unrelated to the pandemic. The cost of this Millionaires Giveaway: $135 billion! 
To be clear, this Millionaires Giveaway has NOTHING to do with COVID-19 or helping our shattered economy recover from this pandemic and will continue long after COVID-19 ends. It comes with no strings attached. Business owners don't have to promise to keep on workers or pay the money back like airlines and other corporations getting bailouts. 
Despite millions of people out of work and our frontline workers still without the tests, vaccine, and protective gear they need to continue their heroic jobs, the Millionaires Giveaway benefits only 43,000 millionaires who on average will catch a $1.6 million windfall. Outrageous! What could we do with $135 billion instead? We could pay for N95 masks—one hundred each for every American!— plus 1 million hospital-grade ventilators. 
We need our elected leaders to support families living paycheck-to-paycheck, not give no-strings-attached windfalls to the already mega-rich!
***SIGN OUR LETTER NOW calling on Congress to repeal the #MillionairesGiveaway and instead pass working family tax credits that boost our families!
An effort is underway, led by U.S. Senator Whitehouse and U.S. Representative Doggett, to repeal the #MillionairesGiveaway. And we have good news! This important provision was included in the HEROES Act— just passed in the House the other day! Even better, the HEROES Act also includes a temporary increase for tax year 2020 (next year) in the Child Tax Credit and Earned Income Tax Credit (EITC). This temporary expansion is well-timed since most economists are predicting unemployment will still be at double-digit levels next year. We need more provisions like this and less like the #MillionairesGiveaway in order to get our families and economy through this pandemic and economic downturn.
***Tell the Senate: Pass the HEROES Act and boost working families, not wealthy millionaires!
The HEROES Act has a lot of COVID-19 relief provisions we think our families need—both on the tax front but also for nutrition, paid family leave and paid sick days, support for hospitals and states, hazard pay for frontline workers, and more direct payments for struggling families, including immigrant families. But negotiations in Congress are starting to get tough. Not everyone is on the same page about the need another COVID-19 relief package—Senate Republican Leader Mitch McConnell and his allies have come straight out and said they don't think we need another coronavirus-related bill. We need YOU to help change their minds and let them know this is crucial to our families. After you sign our letter, share this blogpost with your friends and family and post the action link to Facebook so others can take action as well.
There's a lot that needs to be done so our families and economy can recover from this pandemic, but I think we all can agree that giving millions of dollars away to the uber-wealthy is not one of the actions Congress should be taking! Thank you for all your support and continuing to speak out during this difficult time!
P.S. Wondering how you can apply for SNAP (food stamps), as well as, other nutrition assistance programs, Unemployment Insurance, and if you qualify for the new paid sick days and paid family leave programs passed by Congress? We've got your covered! Check out the video of our webinar and resource page.
P.P.S. Want to know more about the #MillionairesGiveaway and help spread the word about the repeal? Check out this short video on Twitter by our partners at Americans for Tax Fairness.