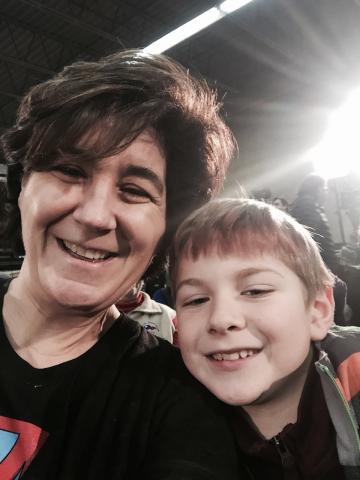 Taking my boy on the STUMP in NH #FITN
Yesterday I decided to declare my own "Take Your Child to Work" Day! It was the last day before the New Hampshire primary and nearly every candidate was within a 30 mile radius of our house, so we decided to take in the election up close and personal. While NH gets a lot of attention every four years, it is rare that both parties' nominations are in play. With so many candidates on the ground, even at this late date we could get still get up close with nearly every one we wanted to see.
So my nine year old son Dominic and I went on the stump!
I am the NH Director of MomsRising and by virtue of my work, my sons are well-versed on the priorities that I work on at MomsRising, and the policies that are so close to my heart as a both a mom and a voter.  
On Sunday afternoon, Dominic and I sat down and decided where we would go. Between commute times and the impending snowstorm, we decided on one Republican and one Democratic candidate and Dominic chose to see Gov. Chris Christie and Sen. Bernie Sanders.
By a twist of fate we ended up front row for each – not many nine year olds were out that day – so Dom stood out and made for an excellent photo opportunity! I encouraged him to listen to each candidate closely and compare their answers. He observed that the people attending each event were different, as was the tone of each of the speakers. He also observed real differences in their positions, most notable on wages and healthcare in particular. After so many political ads and debates he was able to understand the discussions and weigh in on them. He got it - he saw real differences, and I was so proud to be his mom!
We are lucky in NH that we have access like no one else (sorry Iowa) and we take it very seriously. At each event there were still undecided voters – even with less than 24 hours until the polls opened. I hope that Dom will remember this day and that he will keep his passion for our democracy as he grows older. What NH will do – I can't say – but we are working to educate the next generation of voters – one candidate at a time!