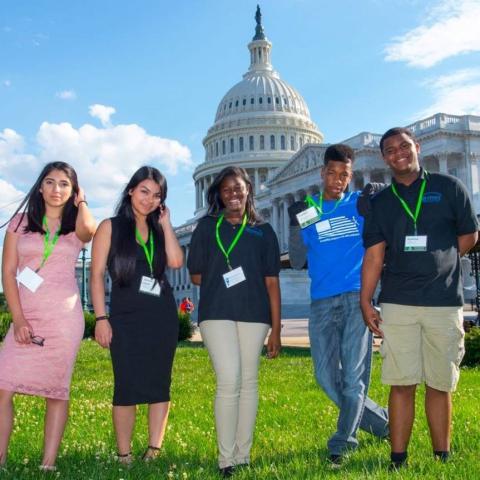 Take the 'Afterschool for All' Challenge Today
In Washington, DC today, I'm joining hundreds of moms, kids, community and business leaders, educators and others to walk the halls of Congress to urge our elected representatives to stand up for afterschool programs.
Afterschool and summer learning programs are vital to our families and communities. I speak from experience, not just as the executive director of the Afterschool Alliance, but as a mom whose daughters benefited from a host of afterschool enrichment opportunities ranging from music theater to computer programming throughout their time in school.
Even though reams of research prove how effective afterschool programs are at keeping kids safe, inspiring them to learn, and giving parents peace of mind, President Trump is unconvinced. For the third straight year he's proposing to eliminate federal funding for afterschool programs, which would deny nearly 2 million children the opportunity to spend their afternoons and summers under the watchful eye of caring adults, engaged in safe, educational, constructive activities.
The hours after the final school bell rings and before parents get home from work can be a time of enormous anxiety for working parents. Are my children safe? Are they learning or just trading texts with friends? Are they getting exercise or sitting on the couch playing video games? Who are they with? What kinds of trouble or inappropriate behaviors might tempt them?
The same anxieties plague parents during the summer months but, fortunately, many afterschool programs morph into summer learning programs, filling children's days with safe, supervised learning and fun.
There really is a federal funding problem with afterschool. The problem is that there's not enough federal support for afterschool – nowhere near enough. For every child in an afterschool program, two more are waiting to get in. Their parents say they'd sign their children up if a program were available but, too often, it isn't.
But instead of supporting an increase in federal support for afterschool to meet that huge unmet demand, the President has proposed eliminating the chief federal funding stream for afterschool, called 21st Century Community Learning Centers (21st CCLC).
Our job, and the reason afterschool advocates are on Capitol Hill today, is to make sure Congress recognizes the value of afterschool and rejects the President's proposal. Instead, Congress should increase funding for 21st CCLC. We're urging our senators and representatives to grow federal support for afterschool by $100 million. That's enough to support afterschool for 100,000 more children across the nation – a down payment toward afterschool for all.
You can help. While hundreds of advocates will be on Capitol Hill, thousands more will use social media to amplify their messages. Please, take a few minutes right now to send a message to Congress to fund afterschool and summer learning programs! Encourage your friends to do the same. You can find a variety of social media tips and tools on our website, and you can find your social media handles for your members of Congress here. There's background information about afterschool, here. I hope you'll join us and help!