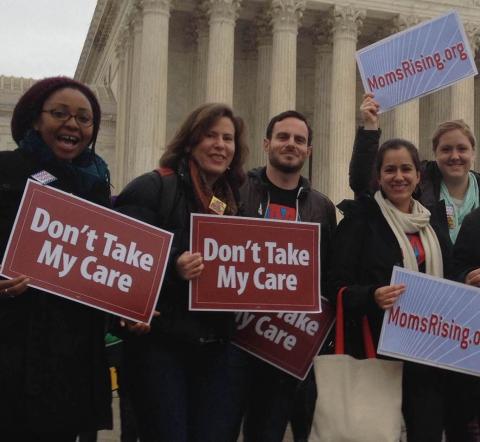 Take Action to stop the Texas v. United States case!
Health care is on the line again (!!) with oral arguments beginning in the Fifth Circuit Court of Appeals in the Republican-led Texas v. United States lawsuit that could overturn the Affordable Care Act (ACA) and threaten protections for the 130 million people living with a pre-existing condition. 
*Now is the time for each and every one of us to speak out to #ProtectOurCare and show #WhatsAtStake should the ACA be struck down in court. Here are 3 ways you can help:
Sign our petition to President Trump, Attorney General William Barr, and State Attorneys General who are plaintiffs in the Texas v. United States case to stop their attack on the Affordable Care Act: https://action.momsrising.org/sign/tx-v-us-ag-petition/?source=blog
Join us for a TweetStorm on Tuesday, July 9th, 2019 at 2pm ET / 11am PT to share stories about why it's important to protect the gains we've made toward increasing access to quality, affordable health care coverage. Here how: https://docs.google.com/document/d/1ODcDqduf-Fgi3D6LXVpbT-OrJiXvenjWWk0ar3qq338/edit
See below to know where your state's Attorney General stands and contact them. If they are a plaintiff state attacking the ACA, then contact their office to demand they withdraw from the lawsuit. If they are defending health care and the ACA, then let them know you support them!

Plaintiff states that are trying to hurt health care coverage: TX, AL, AZ, FL, GA, IN, KS, LA, MS, MO, NE, ND, SC, SD, TN, UT, WV
Defense states that are fighting to defend health care coverage: CA, CO, CT, HI, IL, IA, KY, MA, MI, MN, NV, NJ, NY, NC, OR, RI, VT, VA, WA
We cannot stay silent during this attack on the health coverage of millions of people—in fact, 21 million people will lose health care altogether if this case succeeds!