TAKE ACTION: Tell Congress to step up today!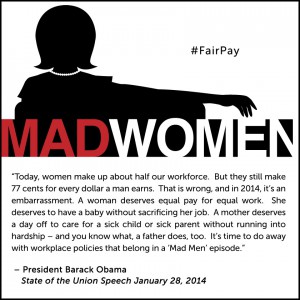 "I can remember only a few years back when the MomsRising State of the Union BINGO card was nearly empty. Keep up the incredible work!"
--Wendy, MomsRising member
Two words you never thought you'd see together:  Historic. BINGO.
Tuesday night's State of the Union address and MomsRising's related BINGO game were nothing short of historic. For the first time ever, a President of the United States squarely put the issues that most affect the economic stability of America's families and of our nation in the spotlight: fair pay, early learning and childcare, the minimum wage, sick days, family leave, healthcare, childhood obesity, gun safety, climate change, immigration policy reform, and more.
*Click here to tell Congress that it's time for them to step up for these economic stability policies too: http://action.momsrising.org/go/4036?
Momentum is growing. Every year, MomsRising has encouraged families across the nation to play "State of the Union BINGO," tracking whether the issues on the MomsRising policy agenda come up.
This year, for the first time ever, across the country people were tweeting and yelling "BINGO!" because our key issues came up time and time again!
Our issues rose to the top of the national agenda because of your hard work. In fact, MomsRising has delivered hundreds of thousands of signatures and thousands of personal stories to Congress. Our members (like you!) have made phone calls, made personal visits to leaders, attended meetings, and sent emails to policy makers urging them to take action. From pushing for an increase in the minimum wage to pressing for passage of the Paycheck Fairness Act, from calling for paid leave policies to fighting for immigration reform that is fair to women and families, from fighting for health care to working toward paid sick days, we have been out there every day advancing policies that will help our national economy and our families thrive.
Mom Power is real and moms are powerful. And, all BINGO jokes aside, it's a really big deal that the President of the United States of America highlighted in his speech these priority issues that are all too often ignored. It wouldn't have happened without you.
"Awesome to see that WE make a difference. Thanks to all those SuperMoms that got involved to get our issues heard!" 
-- Angela, MomsRising member
But we can't celebrate for too long.  The President, with his speech, provided crucial momentum for policies that are critically needed right now.
*Can you take a moment to urge your members of Congress to step up now for economic stability policies too?
http://action.momsrising.org/go/4036?
We're invigorated and energized. Moms have shown that we are a powerful political force and we are ready to see our agenda embodied in law. Thank you for being an important part of making our nation a better place for families and businesses.
Together, we're a powerful force.
P.S.  Ever get tired of reading and want to just listen?  Well, we have a terrific weekly radio show that's also on podcast, called "Breaking Through with Kristin Rowe-Finkbeiner." You can check it out here: http://action.momsrising.org/go/4035?