TAKE ACTION: Sick days save lives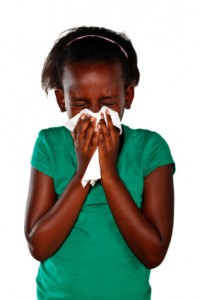 Winter is on its way and it's bringing the flu.
There are many things we do to try and protect our families from flu. We get vaccines, we wash our hands, we convince the little ones in our lives to sneeze or cough into their elbows... but oftentimes we can not do the simplest and best thing we should do to fight the flu - we can't stay home.
Fortunately, we can fight the flu, before it starts, by getting Congress to pass the Healthy Families Act, a national standard for earned paid sick days!
For most people the flu is miserable, but for many it is also dangerous and even deadly. A MomsRising member in Mississippi shared her story with us:
"I have two children with cystic fibrosis; cold and flu season is always a scary time for us because they are at risk for serious, even life-threatening complications from the flu. We work very hard to get them safely through the season, and it is a strain on both of our jobs. The greatest risk to my children, however, is the presence of other sick children in school... few local employers offer any kind of paid leave for care of a sick child... This puts all children at risk, but it places special burdens on families with children who are especially at risk."
Our member's fears are not misplaced. Recent data shows that up to 203,000 people worldwide died from the 2009 H1N1 outbreak, a number that is over 10 times higher than the World Health Organization's original estimate. Earlier this year, several major US cities declared a 'state of emergency' during the 2013 flu season.
Tell Congress to help stop the spread of flu by passing the Healthy Families Act!
Four in ten working people in the United States cannot earn a single paid sick day. As a result people are forced to work with the flu or risk losing their job. And the burden falls disproportionately on the people with the lowest incomes - eight in ten low-wage workers cannot earn a single sick day. This means that every day, during flu season, people who work hard all year drag themselves into work feeling miserable. They take care of our elders, soothe our children, stock our grocery shelves, and serve us food.
When public health and family economic security are forced to battle - we all lose. When it comes to deadly strains of flu, paid sick days save lives.
Congress is considering a bill that would guarantee a basic number of earned, paid sick days, but they need to hear from you for the bill to succeed. Tell your elected officials to fight the flu by passing the Healthy Families Act.
When people who are sick can stay home, they reduce transmission of the flu and other communicable illnesses. Giving people time to recover is also just the right thing to do. And doing the right thing should be super easy in this case, because it actually saves companies money! Anytime someone gets fired for missing work while sick, their employer has to begin the expensive process of hiring and training a new employee. It saves tax payers money too - with fewer emergency room visits and limited lost productivity from reduced transmission. Paid sick days are a win, win, win.
Cities across the country are catching on to the benefits of earned paid sick time. New York City, Jersey City, Seattle, Portland OR, San Francisco, DC and the entire state of Connecticut have passed sick day laws - and lots of other cities and states are on the verge of doing the same. We need a national standard to guarantee that no one is left out.
We can fight the flu before it starts. Help us pass the Healthy Families Act today!
Thank you for all you do, and don't forget to wash your hands.