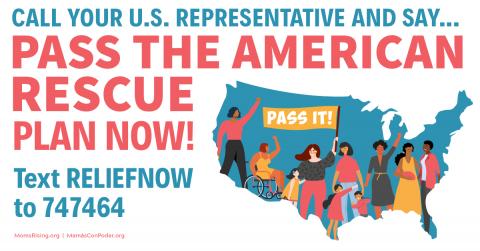 TAKE ACTION NOW on COVID Relief!
We are in the final stretch to passing the American Rescue Plan thanks to all the phone calls, tweets, emails, and stories you have sent to the U.S. Congress the past few months. The House of Representatives is voting TOMORROW to pass comprehensive COVID relief, so we need you to make a quick call now, before they vote, to help make sure they vote YES! 
***Call your U.S. Representative now and tell them to pass the American Rescue Plan without delay! Just text RELIEFNOW to 747464 and we'll connect you directly to your U.S. Representative.  (It's easy. We'll walk you through every step of the way — including giving you a sample script of what to say — as you call).
What's the lowdown?  The U.S. Senate passed this package over the weekend [1] —and now we need your help getting it across the finish line to make sure your U.S. Representative votes "yes" on this critical piece of legislation.
This comprehensive package includes vital emergency programs that our families, hospitals, small businesses, and local economies need right now, including an extension of unemployment benefits; a childcare stabilization fund; direct payments, including for some mixed-status families; critical expansions of the Earned Income Tax Credit and Child Tax Credit; aid to state, local, territory, and tribal governments; funding to support a scaled-up and equitable distribution of the COVID-19 vaccine; protections from evictions and utility shut-offs; and increased funds for SNAP, school meals and other nutrition programs that are in unprecedented demand.
Now is the time to take action! We are expecting the House of Representatives to vote within the next 24 hours. ***Call your U.S. Representative now and tell them: Vote YES and pass the American Rescue Plan ASAP!  (Don't worry. Calling is easy. We even give you a sample script and it takes just a couple of minutes to make a big impact).
Text RELIEFNOW to 747464 or call 1-888-523-8974 and we'll connect you directly to your U.S. Representative!
Thank you for all you are doing for our families and economy!
P.S. How is your family still struggling under COVID-19? Are you having trouble with childcare? Are you unemployed or struggling to pay the bills? MomsRising wants to hear from you! Share your story with us.
[1] "The Senate Passed a $1.9 Trillion COVID-19 Relief Bill. Here's What's In It." Time Magazine.