Take Action!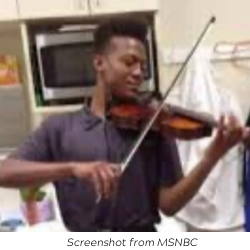 TAKE ACTION: Justice for Elijah McClain
Elijah McClain -- a young Black man who loved animals, a violinist, a highly regarded massage therapist, and a person beloved by his community -- was simply walking home from the store after buying iced tea when police officers in Aurora, Colorado detained and murdered him nearly a year ago. The officers who murdered Elijah have yet to be fired or charged.
There is still no justice. Not only have the officers NOT been charged yet, yesterday the Aurora, CO police, in riot gear, used pepper spray to break up a peaceful violin vigil in a city park calling for justice for Elijah, who was killed by that very same police department last year. 
*Demand that Colorado Attorney General Phil Weiser hold the officers who murdered Elijah accountable, starting with their immediate arrest and criminal charges filed against them.
Racial profiling, along with structural racism and police brutality, is killing Black people. None of this can continue. MomsRising is following the lead of Color Of Change in demanding justice for Elijah McClain -- and your voice is urgently needed too.
Elijah McClain was a 23-year-old massage therapist who loved running, was a self taught violinist, and volunteered playing music at animal shelters so the animals wouldn't be lonely. A beloved son, friend, and family member, on August 24th 2019, Elijah was walking home from a convenience store where he had just picked up iced tea for his friends and family when he was stopped by three white police officers after a 911 caller reported him as a supposedly "suspicious person."
Elijah was just walking home and not bothering anyone. He wasn't even suspected of anything. Yet Aurora police twice restrained Elijah with a chokehold, which restricts blood to the brain to the extent of unconsciousness, as Elijah pleaded for his life. Then medical responders arrived and injected Elijah with ketamine, an intense sedative, and Elijah went into cardiac arrest in the ambulance and never recovered.
*TAKE ACTION NOW: We won't sit by silently as more Black people are murdered by the police. The officers who murdered Elijah must be held accountable and that starts with their immediate arrest and criminal charges filed against them.
Let's be very clear. Elijah committed no crime. He had done nothing wrong.
The Aurora police officers, on the other hand, committed murder. They must be arrested.
*CONTENT WARNING: Elijah's last words are devastatingly unforgettable and it's unforgivable that police brutality coupled with racial profiling and structural racism remains unchecked in our nation:
"I can't breathe. I have my ID right here. My name is Elijah McClain. That's my house. I was just going home. I'm an introvert. I'm just different. That's all. I'm so sorry. I have no gun. I don't do that stuff. I don't do any fighting. Why are you attacking me? I don't even kill flies! I don't eat meat! But I don't judge people, I don't judge people who do eat meat. Forgive me. All I was trying to do was become better. I will do it. I will do anything. Sacrifice my identity, I'll do it. You all are phenomenal. You are beautiful and I love you. Try to forgive me. I'm a mood Gemini. I'm sorry. I'm so sorry. Ow, that really hurt. You are all very strong. Teamwork makes the dream work. Oh, I'm sorry I wasn't trying to do that. I just can't breathe correctly." 
"I can't breathe" are also the last words the world heard from Eric Garner, George Floyd, and too many other Black people targeted and killed by police violence.
Young Black men are 21 times more likely to be killed by the police than young white men. [7] Young Black women are also disproportionately harmed and killed by the police. Anti-Black racism is deadly.
Police are getting away with murdering Black people, not just in Elijah's case, but in communities across the country -- police violence brings to the forefront the devastating impacts of anti-Black racism.
For instance, it has been over 100 days since Breonna Taylor, a twenty-six- year-old Black EMT and essential worker, was shot and killed in her Louisville, Kentucky home by officers from the Louisville Metro Police Department (LMPD). LMPD performed an illegal, no knock drug raid on her home. Not a single officer announced themselves before ramming down her door and firing 22 shots, shooting Breonna 8 times, killing her. The officers were at the WRONG HOUSE, and the person they were looking for had already been arrested earlier that day. Breonna was not a suspect, she had not committed a crime, and her death was senseless and tragic. 
Across the country, mothers are losing their children to the police violence and millions of other mothers live in fear of it every single day. It's heartbreaking and unacceptable.
*TAKE ACTION: Demand that Colorado Attorney General Phil Weiser hold the officers who murdered Elijah accountable, order their immediate arrest and ensure that criminal charges are filed against them.
Elijah was deeply loved. His mom, Sheneen McClain, shared that Elijah became a massage therapist because he "wanted to heal" others, and "he not only healed others, he healed himself" through his work. 
No mother should have to go through what Elijah's mom is going through. No one should lose their life to the police.
*Please take a moment after you sign on to the call for #JusticeForElijahMcCain to post this action link on social media so others can sign on too. The more of us who speak out, the faster we'll get to justice: https://action.momsrising.org/sign/Justice-for-Elijah-McClain/?no_akid=1
Thank you for taking action,