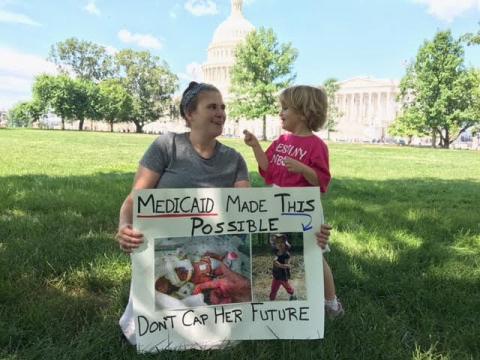 Take Action for Medicaid NOW! "Please Don't Cap Their Future"
The time to take action to protect healthcare is now!  The Senate is moving quickly to bring its version of American Health Care Act (AHCA) to a vote in the next two weeks, with no hearings or public input.  One of the most devastating – and least discussed – proposals being considered by the Senate is dramatic cuts to Medicaid, over $800 billion over the next decade.  Families across the country would be devastated.  We need you to Act Now and join our fight!   
Nearly 40 years ago when my brother was born with a disability, families like mine were told an institution was the only place for their children.  Because of strong advocacy by people with disabilities and their families – and access to Medicaid-funded services – today virtually all children with disabilities grow up with their families and as part of their communities.  My brother lives independently, has a job, and participates in community activities, all with support from Medicaid services.  But the AHCA puts this progress at serious risk.
Many people mistakenly think of Medicaid just as a health insurance program for low income individuals.  But it is so much more!  Medicaid also provides people with disabilities and their families critical supports not available through private insurance. This includes specialized medical care and therapies, in-home supports, respite care, and supports in school.    
Families are terrified that the proposed cuts to Medicaid put their children's futures at risk.  They are scared their children will no longer be able to grow up in their family home, instead having to go to a nursing home or other institution for needed care.  They're scared their children won't be able to go to school with their siblings, limiting their future prospects for getting a job or living independently.  Families, already providing billions of dollars in unpaid caregiving, are scared they'll have to take a second mortgage or quit their job to make up for lost services.  As one mother so aptly pleaded on behalf of her daughter at last week's Save Medicaid rally, "Don't Cap Her Future."
Please take the next five minutes of your day to protect the future of people with disabilities and their families.  Do it for your child, their classmate, a relative, a friend and the millions of people who rely on Medicaid.
Call the main Capital line (202-224-3121) and ask to be connected to your Senator.  Say "Hello, my name is [name].  I am a resident of [town, state].  I am concerned about the cuts to Medicaid proposed in the American Health Care Act.  Medicaid is critical to the lives of people with disabilities and their families.  The "per capita caps" proposed in the AHCA would lead to devastating cuts in the critical services on which they rely.  Please oppose any bill that would cut or cap Medicaid."  And if you're willing, call every day.
Inspired to do more?  Here's how:  
Get your friends, family and colleagues in key states engaged.  Reach out to friends, family, and colleagues in states with key Senators and ask them to Take Action.  Key states include Alaska, Maine, West Virginia, and Nevada (top tier), as well as Colorado, Arizona, Ohio, Louisiana, Pennsylvania, Montana, Nebraska, Missouri, Wisconsin, Indiana, Georgia and Alabama.
Plan local actions in your district, including meetings with your Senator.  Try to meet with your Senator, in their home office or in DC.  Local events, like town halls or rallies, are also critical.  Op-eds in your local paper are very effective.  Here are resources to help you set up meetings, write an op-ed, and more.   
Learn more and stay updated.  Things are moving quickly.  If you are interested in learning more and getting updates and suggestions for daily actions, visit and sign up on www.protectourmedicaid.org
Stand up and join this critical fight to #SaveMedicaid and protect the futures of people with disabilities and their families.