Take Action!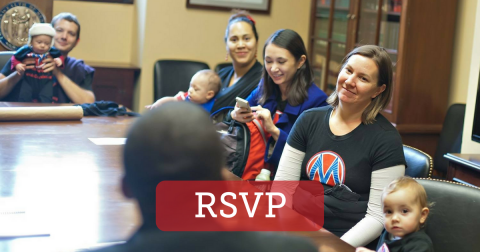 TAKE ACTION: Ask Senator Heinrich to Support Paid Family Leave!
Whether it's to care for a newborn you swear already smiles, a mom who is ill, or a spouse battling cancer, being there for family is what matters and you shouldn't have to give up a paycheck to do it.
Unfortunately for far too many working families, that is exactly what is happening right now. Because the United States is one of the only countries in the entire world without a national paid family and medical leave policy.
But we can take action, right here in New Mexico, to change this!
→ Click here to join us for an in-person meeting with New Mexico's U.S. Senator Martin Heinrich's local Albuquerque staff to urge him to support the FAMILY Act, a paid family and medical leave insurance bill currently in Congress.
Date & Time: Thursday, November 2nd at 10:30am (meet at 10:15am)
Location: We'll meet at Forward Together's office at 320 Gold Ave SW, Suite 1119, Albuquerque, NM 87102. We'll walk next door to Senator Heinrich's office at 10:30am.  
*** Your kids and other family members are more than welcome to attend!
We've set up this high-impact face-to-face meeting to make sure Senator Heinrich and his staff know we expect them to continue to step up, co-sponsor, and champion policies that help working families and increase access to paid family and medical leave.
→ Can you make it? We'd love to have you join MomsRising to share your thoughts & experience with your U.S. Senator! 
***Can't make it? You can still make a difference by signing this petition to urge Senator Heinrich to co-sponsor the FAMILY Act!
Never met with your lawmaker before? No worries! No experience, other than being willing to share your personal experience, is necessary! We've done all the legwork to set up the meeting and we'll send you everything you need to know. And, I'll be there to lead the meeting and am able to answer any questions you have.
There are a lot of disheartening and outrageous things happening in DC these days, but taking action in your own backyard by meeting with your Senator's in-district office is a perfect & powerful antidote! Especially when we're lifting up a win-win-win solution that will really help families, businesses, and the economy!
→ Join us! RSVP for the Sen. Heinrich meeting here!
Here's the scoop: We need to urge Senator Heinrich to stand up for working families by co-sponsoring the FAMILY Act. The FAMILY Act offers 12 weeks of paid leave, funded through an insurance-style program, and covers the full range of personal, medical, and family caregiver needs established in the Family and Medical Leave Act.
New Mexicans need the FAMILY Act ASAP. MomsRising member Veronica from Las Cruces, NM shared:
While I do have FMLA coverage, I do not have paid leave. I had managed to cover, with an accumulation of sick and annual leave around 9 weeks of my 12 week leave. When the leave hours ran out, so did my paycheck. We were forced to cash out our IRA and use it to cover bills, food, medical insurance, diapers and the like. When I returned to work, I had no sick leave or annual leave left to cover me and my child in case of emergency or illness. I have yet to be able to accumulate any significant amount of time since then either. Children get sick and schools have days off... so, moms and dads can't afford to miss work when they are ill or just need a bit of downtime. It seems to me that America can do better.
Veronica is not alone. The fact is that access to paid family and medical leave is dire. Only 15% of American workers – and only 6% of low-wage workers – have access to paid leave, and just 39% of employees have access to personal medical leave through their employer. [1] This is why 1 in 4 mothers return to work within 10 days of giving birth and why caregiving responsibilities force 1 in 5 retirees to leave the workforce earlier than planned. [2]
But the good news is that momentum for paid family and medical leave is growing.
And hearing from constituents like you will increase the likelihood that Sen. Heinrich will co-sponsor this important legislation. → Sign up here to RSVP and I'll send you all the info!
In fact, Sen. Heinrich is already a co-sponsor of legislation that would enable working people to earn paid sick days -- so we know he cares about these critical issues. While it's true that the FAMILY Act might not see a lot of movement in the current political climate in Washington, we still need our legislators to show us their priorities and stand up for what we are all FOR and not just what we are against. That's why we're meeting with Senator Heinrich to urge him to support the FAMILY Act!
→ Let me know if you can join MomsRising and other families in your area on Thursday, November 2nd for a fun and high-impact meeting at Senator Heinrich's office about paid family leave!
And if you can't make it but want to help, please sign this petition to urge Senator Heinrich to co-sponsor the FAMILY Act!
I hope to see you there!
Together, we're a powerful force for women and families in New Mexico.
PS. By the way -- I'm Erin, and I'm the new MomsRising Campaign Director in the Southwest. I'm looking forward to meeting other MomsRising members in the Albuquerque area! In addition to the meeting with Senator Heinrich, I'll also be holding a MomsRising member Meet-Up on Thursday, November 2nd from 3:30-5:30pm at Napoli Coffee. I'm inviting you to come meet with me and other local MomsRising members to talk about how we can grow our power and impact in New Mexico in order to push for family economic security across the state -- and how you can get engaged in our on-the-ground work in Albuquerque! Click here if you're interested in meeting up on Thursday 11/2between 3:30-5:30pm, and I'll send you all the details!
[1] U.S. Dept of Labor. "National Compensation Survey: Employee Benefits in the United States, March 2017"
[2] In These Times. "The Real War on Families: Why the U.S. Needs Paid Leave Now"