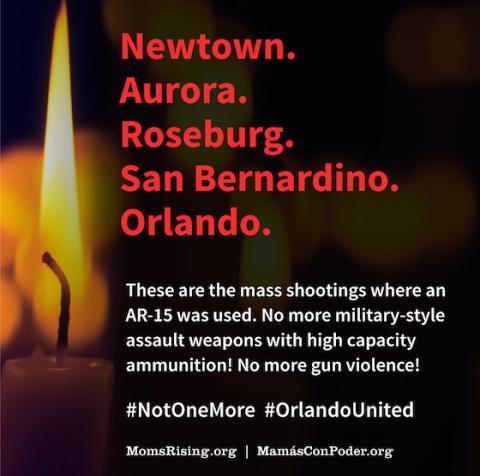 Take action against military-style assault weapons!!
I'm filled with anger and anguish. This is a historic moment I never hoped to see: 49 people dead and over 50 injured in the deadliest mass shooting in U.S. history. And it happened in my hometown of Orlando!
The U.S. Congress has failed our community and our children by standing by without taking action as family after family falls victim to gun violence.
Enough is enough!!!
**Take action now and stand up for the victims of the Orlando shooting by calling on Congress to ban military-style assault weapons and high-capacity ammunition!!
What can we do? We can speak out! One military-style assault rifle with a high-capacity magazine (an AR-15) was used to mow down 49 beautiful lives Sunday morning because of their sexual orientation and the freedom they represent. This type of violence must be stopped! This same type of military-style assault weapon was also used in Newtown, Aurora, San Bernardino, and the Umpqua Community College. This is the weapon of choice of mass murderers and has no business being for sale in America! Right now, there is legislation ready to be passed in Congress that already has 125 co-sponsors that would get military-style weapons and high-capacity ammunition off our streets. No matter what the Orlando shooter's affiliations, hatreds, mental health, or background was, his access to a weapon that was designed to kill large numbers of people quickly was why 49 people were slaughtered. We must stop this from every happening again!
We need you to speak out and tell your members of Congress: "Protect our families and our communities. Ban the sale of military-style assault weapons and high-capacity ammunition!"
I just drove past the Pulse nightclub in Orlando where the shooting occurred last week on my way to meet a friend for dinner. This is a place where the LGBTQ+ community finds acceptance and refuge. There is no question that this was a hate crime and an act of terrorism. During Pride Month, the Orlando LGBTQ+ community was targeted and gravely harmed when they were just trying to celebrate their freedom and joy, dancing and hanging out with friends. This isn't the country I want to raise my daughter in and I know so many of you feel the same way.
Change must occur and it must occur now before another community needs to suffer the grief of gun violence.
**Stand up for the victims of gun violence in Orlando and everywhere and tell Congress to take action NOW!
It's ok to cry. It's ok to feel scared. And it's ok to be angry. But join me in turning those feelings into action by reaching out to our elected leaders today and telling them no more military-style assault weapon with high-capacity magazine sales in the U.S.!
We are battling against the powerful NRA and are going to need as many voices as possible to let Congress know that we will not accept this type of tragedy anymore! Not a single mother or father should have to hear that their child was killed in a mass shooting. After you take action please post our action link to Facebook and Twitter and encourage your friends and family to take action (you can also forward them this email!). We will only end gun violence if we stand up together.
Tonight I will hug my daughter a little tighter and make sure my loved ones know how much I care for them. Tomorrow I will join people from around the country in standing up against gun violence!
We can stop these tragedies by raising our voices together!