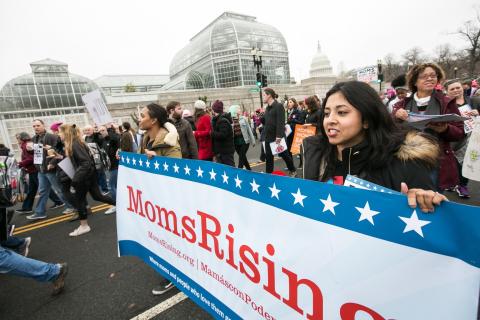 Take #5Actions This Week!
Victories! We're delighted to share that you're not only play a major role holding the line on healthcare at the federal level right now, we're also winning at the city and state levels across the nation because of people like YOU! In fact, because of people like you signing letters, making calls, sharing petitions, attending meetings and MORE we just this week played a major role in passing earned sick days in Maryland, a Pregnant Workers Fairness Act just passed in Washington State, and New York State just ended the practice of automatically putting 16 - 18 year olds through their criminal justice system as adults. We also just helped advance protections for breastfeeding women in New Mexico and the Maryland State Legislature just passed a bill ending school suspensions for children in second grade and below. WHOOOT!
Let's keep it up! And one way to keep it up is to do our #5Actions that we send around each Monday. You can do all five of the actions on one day, or spread them out across the week, your choice. The important thing is not WHEN you do them, but IF you do them. And if you do them, your actions will add up with others, and you're sure to have an impact.
Without further ado, here are your #5Actions for this week:
1. Your QUICK Signature Needed--We Need High-Quality, Affordable Childcare
—> ACTION: http://action.momsrising.org/sign/Childcare/
BACKGROUND: We don't have to tell you: The struggle is real when it comes to childcare! In every state in the U.S., a month of childcare for two children costs more than the median rent. It's no surprise that many parents are forced to leave the workforce, and forego a reliable paycheck, because they don't have high-quality, affordable childcare and paid family leave – this results in $28.9 billion a year in lost wages. That's some serious cash we are leaving on the table! The U.S. Congress needs to step up to the plate and pass policies that increase access to high-quality childcare by addressing affordability for families and compensation for providers. *Join us and write your members of Congress NOW! Tell them to support high-quality, affordable childcare legislation!
2. Join The #TaxMarch in DC or In Your Community This Saturday!
—> ACTION: Find a #TaxMarch near you here - www.TaxMarch.org
BACKGROUND: President Trump's refusal to disclose his tax returns breaks with decades of precedent and leaves the American people in the dark about his potential business ties with foreign adversaries like Russia and how his Administration's policies might benefit his wallet at the expense of the rest of us. This all comes at a time when tax reform legislation is being considered. We need to make sure that our tax system works for working families and not just wealthy corporations and individuals like the Trumps. A grassroots movement is fighting back and defending our country's basic democratic principles of transparency and accountability and standing up for the vulnerable. On April 15, thousands of Americans will march in Washington, D.C. and more than 130 communities across the country to demand that Trump immediately release his tax returns and drop his plan to slash taxes for billionaires and corporations.To RSVP to a local march go here: www.TaxMarch.org
3. #WeBelongTogether
—> ACTION: Follow & share social media information with your friends about the #WeBelongTogether Kids Caravan project via #WeBelongTogether on Twitter and Facebook
—> North Carolina! - If you live in North Carolina, please come out and support the #WeBelongTogether Kids Caravan on April 12th. RSVP here: http://action.momsrising.org/signup/NC_WeBelongTogether_Kids_Caravan/ or here: Facebook
BACKGROUND: A group of brave children will travel in a #WeBelongTogether Kids Caravan from South Florida to Washington DC and be a part of several local, children and family-led actions to call upon local elected leaders to stand strong against policies that seek to criminalize and divide people and to assert the strength of our ties to one another. Help highlight the courage of the young people who are stepping forward through sharing the We Belong Together video and memes via social media. These events are co-sponsored by the National Domestic Workers Alliance, Women's March, #LoveArmy, MomsRising, Power U, WeCount, UndocuBlack, United We Dream, and many others. *This is an important action: Trump and his ICE agents are trying to tear parents away from their children in mass immigration raids. At the same time, politicians and police are criminalizing Black youth; and Trump's Muslim Ban is leaving millions of refugee kids in extreme danger with no route to safety. But young people are standing up for their families, their friends and their future! That's why on April 12th children and youth will join together in Raleigh at the Halifax Mall to welcome a "Kids Caravan" traveling from Miami to Washington, DC. The kids participating in the #WeBelongTogether Caravan are spending their spring break standing up to Trump's bullying and the separation of our families and communities. There will be activities for kids and youth and a program where kids from the area will read letters they wrote to the Governor and President Trump demanding justice and no more hate.
—> ACTION: http://action.momsrising.org/sign/2017_EqualPayDay/
BACKGROUND: The US Census reports that the average woman earns 80 cents to a man's dollar. That's bad for our families and economy. But that number only tells part of the story: Moms make only 71 cents to a dad's dollar and women of color earn as low as 46 cents to a White man's dollar. It's time for a change! Sign our open letter calling on state and federal lawmakers to end unfair pay by championing policies proven to help close the wage gap and boost our national economy: paycheck and workplace fairness, paid family and medical leave, affordable, high-quality early learning and childcare opportunities, earned sick days and raising the minimum wage.
5. Tell Congress: We Need Paid Family & Medical Leave For ALL Working Families, Not Some!
—> ACTION: http://action.momsrising.org/sign/paid_family_leave_2017/
BACKGROUND: The United States is the only industrialized nation in the world without some form of paid family leave. This hurts families, our businesses, our global competitiveness, and our economy. Sign on to a letter to Congress letting them know that our country needs a comprehensive paid family/medical leave bill that benefits ALL working families. America's families need a robust detail-driven paid family/medical leave policy that: is accessible to all working people; offers meaningful length of leave – at least 12 weeks and covers the full range of personal medical and family caregiver needs established in the Family and Medical Leave Act; is affordable and cost-effective for workers, for employers and for the government; is inclusive when it comes to defining "family," and allows working people to take leave without facing adverse employment consequences.
Thank you for all you do to make our nation stronger and a place where everyone can thrive! #KeepMarching!
- Kristin, Karen, Gloria, Felicia, Donna, Xochitl, Elyssa, Donna, Anita, Khadija, Ruth, Sara, Nate, and the MomsRising Team
P.S. Did you get a "Nevertheless, She Persisted" button? It's not too late to get yours ... or to get more! Click this link to make a donation in any amount and we'll send you a button: https://action.momsrising.org/donate/she_persisted/?source=blog