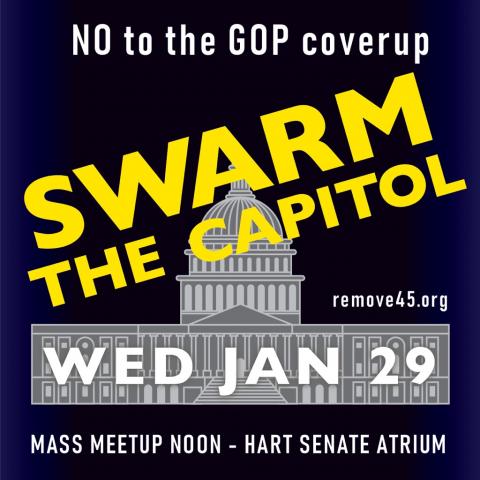 #SwarmTheCapitol: MomsRising There in Force
By the end of this week, the U.S. Senate will face a crucial vote in the impeachment trial of President Trump. What's at stake is whether to call witnesses and allow new documentary evidence to be presented BEFORE a vote to remove the President of the United States.
As Senate Minority Leader Chuck Schumer said, "A trial with no evidence is not a trial at all; it's a cover-up." That's exactly what Mitch McConnell is doing right now. That's why MomsRising is taking action NOW and joining with partners on Capitol Hill to say NO to a cover-up and demand the U.S. Senate allow witness testimony and documentary evidence during the impeachment trial.
Join us—along with many of our organizational partners—on Wednesday, January 29th, in the Hart Senate office building at noon to demand no cover-up.
What's happening? On Wednesday, January 29th at noon, MomsRising is joining with Center for Popular Democracy, Women's March, MoveOn, Public Citizen and many more organizations for a mass mobilization in the Hart Senate Building Atrium (120 Constitution Avenue NE). We are joining our voices together to demand a fair impeachment trial that includes witness testimony and documentary evidence.
*Note: There will be a LOT happening on Wednesday on the Hill, including an orientation / training in the morning, this mass meetup in the Hart building at noon, and then more direct actions led by partner organizations around the Hill. As you can imagine, tensions are running high, so while we encourage you to bring your children so they, too, can exercise their right to make their voices heard, we also encourage you to put safety first and use your best judgement as to whether any demonstrations happening around the Hill are child-appropriate. Remember: You can leave at any time if you need to. (Once you RSVP, you'll receive an email with more details about the day's events.)
There has never been an impeachment trial without witnesses. There is no sound reason not to permit new evidence. If Republicans choose to move ahead without witnesses or documents, then this trial is a complete sham.
Sign up for more information and to join us to demand a fair trial with witnesses and evidence.