Pride Month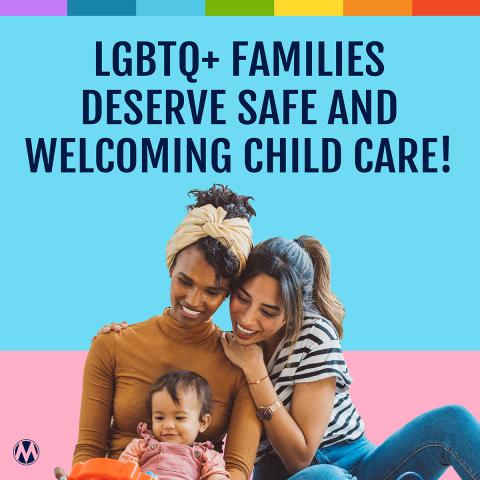 Supporting LGBTQIA+ Parents on Child Care
Take a moment to envision a beautiful future where families and children are happy and thriving. Where inclusion and compassion are core community values and caregivers are supported as together we build the strong foundation needed to truly uplift our future generations. 
What would this strong, supportive and positive environment for families look like? It would look like having comprehensive, affordable, accessible, quality care for our children. It would look like paying care workers the wages they deserve. However, difficulty attaining quality, affordable child care is a reality that many families face and an even greater challenge for LGBTQIA+ adults with children. The Center for Economic and Policy Research recently released important data outlining the experiences of for LGBT parents and caregivers, uplifting some of the disparities that need to be addressed by policymakers to ensure that all of our families and children have access to the comprehensive, quality care they need to thrive.
Here are the stats at a glance! Did you know that:
About 1 in 4 LGBT adults (26%) lived with children under age 18, compared to just over one-third (36%) of non-LGBT adults. Among those living with children, LGBT adults were younger on average than non-LGBT adults, but had similar levels of education.
Just over 4 in 10 LGBT adults (41%) who lived with a child under age 5 were unable to access childcare in the last four weeks before being surveyed, compared to 3 in 10 non-LGBT adults living with a young child.  
Among adults living with 5-to-11 year olds, 28% of LGBT adults reported that a child in this age range was unable to attend childcare in the last four weeks before being surveyed, compared to 19% of non-LGBT adults.
Among adults with childcare challenges, LGBT adults were more likely than non-LGBT adults to: take unpaid leave, lose their job, leave their job, and not look for a job. 
Financial hardship is common among all adults experiencing childcare challenges, but higher among LGBT adults (62% reported moderate to severe financial hardships) than non-LGBT adults (51%). 
The truth is that finding comprehensive quality care is unaffordable for too many families; some families report paying a third of their take home pay to child care. Across the country, the annual price of infant child care often exceeds the annual cost of in‑state tuition at a public four‑year university. On top of this, too many parents are pushed out of the workforce due to the lack of affordable child care. 
"Childcare is ridiculously priced. Our family cannot afford it. My partner and I work opposite schedules to care for our infant son. She works one less day than before our son was born to stay home with him while I work because I make more money. We have a family member with her own infant watch our son for a nominal fee. She stays home with her baby and is not working because her family cannot afford childcare. Work would only pay for childcare."
Katherine, NH
The pandemic only made this situation worse, and our child care system hasn't recovered. This reality is even more pronounced for LGBT parents and caregivers. Both LGBT parents and non-LGBT parents would benefit from childcare legislation currently pending in Congress, such as the Child Care for Working Families Act. Establishing a comprehensive childcare system would more than pay for itself by increasing parental employment and earnings, improving the quality of childcare jobs, reducing care-related business disruptions, and creating new jobs outside of the childcare sector. 
Early educators are also some of the lowest paid workers who often do not have access to critical benefits, like healthcare. Child care workers NEED to be paid family-supporting wages. Our economy will not be able to fully recover and prosper if families continue to be crushed by the lack of investments in the care economy. Individuals and families can't solve the care crisis on their own. We need to treat care as a public good, which requires public policies that allow our children to have the best start in life.
A Provider's Perspective
By: Reshonna Reynolds
As an educator your classroom is your second home. As a Black woman myself, it's very important to make your classroom representative to the inclusive values of the community that you serve. Whether you're from the LGBQT+ community or the BIPOC community, or even a family member of a undocumented person, you all should have a safe space for your child in the classroom.   Everyone comes from different places and has different journeys that we've all traveled in life. One of the most important ways to diversify your classroom is to make sure that when everyone enters they feel a sense of belonging, and safety. 
You want not only the parents to feel like they made the best choice when dropping off their kids, but you also want the kids in the classroom to have an enriched learning experience reflecting the diversity of their worlds. In an inclusive classroom you see pictures that represent all different types of families, you also get to see many different languages and cultures represented throughout the classroom. You can also expect a bright colorful classroom that feels warm and welcoming when you walk in, celebrating who you are and where you come from. You see a library with all different types of faces and skin tones that shows diverse representation, and different family compositions.
One of my favorite things to do was to acknowledge as many different topics that I could share with my students. We would discuss Black history, Diwali, Asian History, Latin X history, Hanukkah, Indigenous Peoples Day, different jobs in the workforce, different family compositions, and even look at the continents to see how other people lived in countries. Even if we didn't observe any of these actual celebrations ourselves it was still meaningful to show my kids that everyone is different and that's what makes us all special in our own way. It's important for young children to see diverse representation and understand that it's important to treat others with respect. 
I often mentioned that anyone that walks through the doors of my classroom would feel safe, important, proud, and respected. We should want and provide that for all children and families. 
While LGBTQIA+ families face unique child care access impacts, they also face emerging discriminatory policies that are rising throughout the country. As of 2021, five states had laws prohibiting surrogacy for same-sex parents and 11 states had laws permitting anti-LGBTQIA+ discrimination in adoption and foster placement. Recent developments also show legislation targeting LGBTQIA+ children and children of LGBTQIA+ families. The passing of the "don't say gay" bill to limit the discussion of LGBTQIA+ identity in Florida public schools has sparked other states, like Alabama, Ohio, and Louisiana, to pen their own versions of the law. 
"We had to take out a loan for childcare this year. We're not sure we can afford a second child even though we would really like to grow our family." - Katy, MA
This pride month as we celebrate the LGBTQIA+ movement for equality and justice, it's important to recognize that child care and the ability to raise one's family with support and love is a right that must be addressed and fought for. All communities deserve representation and visibility to ensure an environment where all of our children can thrive. Data and statistics sharing the everyday reality and challenges faced by LGBTQIA+ parents and caregivers is an important step toward realizing this, and our policy makers need to utilize this information so that we can all move forward toward a stronger, more inclusive and loving future.