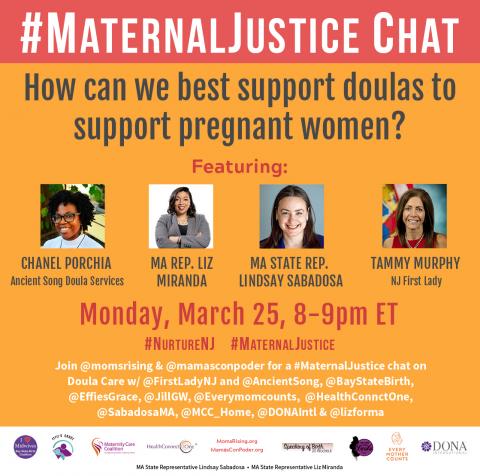 Supporting Doulas so they can support moms
This month, New Jersey Governor Phil Murphy introduced a state budget that proposes allocating $1 million of Medicaid funding to increase doula care access. This amount is in addition to the current budget of 4.7 million that has already been dedicated toward improving maternity care. 
Increasing resources and attention to maternal health in New Jersey is an important step for the state to take to reverse its abysmal statistics when it comes to birth. New Jersey ranks 47 out of 50 states, with more than 37 fatalities per 100,000 live births. In fact, NJ moms are twice as likely as the national average to die in the year after giving birth. There are also extremely troubling racial disparities, with Black mothers in New Jersey being five times likely to die from maternal complications than white mothers. 13% of our state's population is Black, yet 46 percent of maternal deaths, almost half, are Black women. 
The reasons for such stark racial disparities in maternal mortality are poverty, lack of healthcare access, inequality and systemic racism, both outside of and within the healthcare system and healthcare practices. Nearly 60 percent of maternal deaths in the U.S. could be preventable with better access to quality healthcare. Other factors leading to the high maternal death rates in this state include a lack of streamlining of hospital protocols and there not being enough good, accurate data to even know where to begin when it comes to addressing maternal health outcomes. Another factor is the high rates of c-sections in New Jersey. NJ has one of the highest C-section rates in the country, fourth — behind Mississippi, Louisiana and Florida — in 2016, with an overall rate of 36.1 percent. C-sections cost more than vaginal childbirth and result in longer hospital stays. For the mother, the procedure carries a higher risk of complications such as infection or the formation of blood clots and increases the risk of placenta accreta, a serious pregnancy condition that can lead to bleeding and death. 
Reducing unnecessary c-sections is one area where birth workers, known as doulas, can make a difference. Doulas are not healthcare providers, which differentiates them from midwives. Instead, they focus on advocating for the needs of the mother during pregnancy, birth and the postpartum period. They can be a powerful support system for a mother as part of her birth team, whether in a hospital, a birthing center, or at home. Studies have shown that having a doula decreases the overall cesarean rate by 50%-60%, the length of labor by 25%, the use of oxytocin by 40%, and requests for an epidural by 60%. When it comes to reducing racial disparities, doulas can play an important role to help impact maternal mortality and morbidity. 
Today, more and more people are beginning to understand what doulas do and are valuing their services. Though this is a good thing, it's also important to support doulas as they work to support pregnant women and moms. NY State, for example, has launched a pilot program to expand access to doulas to reduce deaths due to childbirth. The program expands Medicaid coverage for doulas via reimbursements. Minnesota and Oregon are the two other states that allow Medicaid reimbursements for doula care.
Though it is encouraging to see a state like NY prioritize doulas, there are some major concerns that have been flagged by doulas themselves. As Collier Meyerson details in her article "Every Black Woman Deserves a Doula", the reimbursement rates for doulas in NY is not sustainable enough to maintain a liveable wage. Doulas, especially doulas of color, many times are part of the very communities they serve, and not having a sustainable wage can make it near impossible for them to do their work in an effective and impactful way. As Jill Wodnick, an educator and advocate in NJ points out "Doulas offer value, care, compassion and support as tools in redesigning respectful maternity care and offer a lifeline of sensitive support. Lessons learned from other states remind us from a sustainability perspective, focusing on a living wage and collaboration with community organizations is seminal to success."
It's also very important to understand that while doula access is important, it is not a solution onto itself when it comes to addressing maternal mortality and morbidity. Deeper foundational work needs to happen to improve our systems and institutions to truly address barriers to quality maternal care and address the ingrained racism behind the jarring disparities that have remained in place for generations of Black moms.
Efforts toward systemic change are happening in our state. This year, MomsRising joined NJ First Lady Tammy Murphy at the launch of her Nurture NJ initiative, a multi-pronged, multi-agency approach to improve maternal and infant health among New Jersey women and children. It includes prioritizing internal collaboration between departments and agencies; an annual Black Maternal and Infant Health Leadership Summit; a Family Festival event series focusing on cities with high rates of Black infant and maternal mortality; a social media strategy to inform and raise awareness; and connecting family members involved in taking care of a child with state, county, and local resources to provide care, support, resources, and relief. 
In light of this initiative, Momsrising and Mamás Con Poder will be hosting special #MaternalJustice Tweetchat with First Lady Tammy Murphy this Monday, March 25 8-9pm ET on Supporting Doula Care in Our States. We will be joined by Chanel Porchia from Ancient Song Doula Services, Bay State Birth Coalition, DONA International, Effie's Grace LLC, Every Mother Counts, Maternity Care Coalition of Philadelphia, Doula and Childbirth Educator Jill Gerken Wodnick, HealthConnect One, Lindsay Sabadosa, State Representative, 1st Hampshire District of Massachusetts and Massachusetts State Rep. Liz Miranda.
New Jersey still has a long way to go, but hopefully, by connecting diverse stakeholders, enacting good and impactful policies, learning from what has worked well in other states and communities and most importantly, listening to moms and their advocates on the ground, we can ensure that NJ will be great place to give birth.