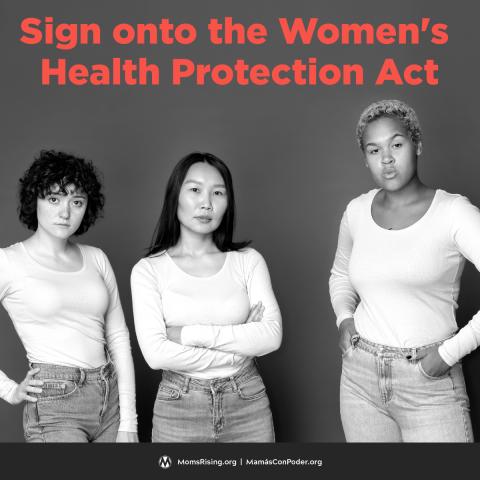 Support the Women's Health Protection Act
Many of us had a pit in our stomach as we watched the arguments last month at the U.S. Supreme Court on the fate of Roe v. Wade. Those justices will decide whether millions of people will lose access to abortion and the reproductive care they need. It's past time for lawmakers to act to protect our reproductive rights! 
Tell your U.S. Senator to protect access to reproductive healthcare and guard against medically unnecessary abortion restrictions by co-sponsoring and passing the Women's Health Protection Act (WHPA).
Here's the scoop: Last month the U.S. Supreme Court heard oral arguments by the state of Mississippi as they continued their direct and aggressive effort to overturn Roe v. Wade. Then the Court failed us, again, by upholding SB8, the most extreme anti-abortion bill Texas has ever seen. This Texas bill outlaws abortions after six weeks of pregnancy, causing even more grave and irreparable harm to women and families in the state who need care. In both the Texas and the Mississippi cases, at least four of the court's conservative justices (and counting) have suggested that they are prepared to overturn Roe on the grounds that it was wrongly decided, despite the public's decades of reliance on it. [2]  While we hope that the Supreme Court will strike down these unjust and dangerous laws, we can not rely on the current justices to protect our reproductive rights. The urgency is clear. 
The Women's Health Protection Act would protect the right to abortion throughout the United States and guard against the medically unnecessary abortion restrictions being pushed forward by state politicians. Even if Roe v. Wade were to be overturned, WHPA would establish a statutory right to provide and receive abortion care.
Our lawmakers need to hear that protecting our reproductive rights is a high priority for moms and the people who love them. That's why we organized on the ground and on social media, and rallied with our partners in Mississippi while the oral argument in D.C. took place. We (safely) hand-delivered over 300,000 signatures from organizations like SHERo Mississippi, MS in Action, UltraViolet, MoveOn, NARAL, Catholics for Choice, and National Council of Jewish Women to our members of Congress at the Capitol – to both legislators who support WHPA and those that don't. 
It's not too late for you to join our efforts and urge your Senator to support, too. Click here to sign on! 
*When you click, you'll automatically sign on to our petition that reads:
Dear Senator:

As one of over a million members of MomsRising, I am writing to ask that you co-sponsor and pass the Women's Health Protection Act (WHPA) to ensure our right to reproductive healthcare. The Women's Health Protection Act (WHPA) is essential to social and economic equality, reproductive autonomy, and the right to determine our own lives. It is the only bill that promises to protect the right to access abortion care throughout the nation. Anyone who needs an abortion in the United States deserves quality, affordable medical care, and a relationship with their health care provider that is free from government intrusion. 

Abortion is a necessity, it is essential to each of our lives – Last year, we all witnessed the most extreme abortion-ban bill Texas has ever seen go into effect and is now law. The Court failed us, again, by not striking down SB8 when presented the opportunity. And we held our breath in fear that Roe v. Wade would fall in the state of Mississippi during the Dobbs v. Jackson MS oral arguments. It has become clear that the influence of bills like the one we saw in Texas is spreading far and wide.

People hurt most by abortion restrictions are those who already face barriers to accessing health care —particularly Black, Brown, Latino, Indigenous, and other people of color. At this very moment, there is no federal bill that protects abortion and access to it and if Roe were to fall today, millions of women and people would lose access to the abortion and reproductive care they need. WHPA safeguards these rights. Please support us by supporting WHPA.
The House of Representatives passed the Women's Health Protection Act. Now is the time to pressure the Senate to pass it too. 
Everyone is watching. There will come a day when our children, students, and youth will ask what we did to fight for their reproductive rights during this unprecedented attack. We must continue to educate our family members, friends, and neighbors about what threats to reproductive rights in Mississippi and Texas means in states across the country. And we must demand that our elected leaders take action to protect our rights, regardless of what state we live in. 
Tell your Senator to safeguard against harsh bans and medically unnecessary restrictions by passing the Women's Health Protection Act!
Our bodies. Our choices. Our rights.