Take Action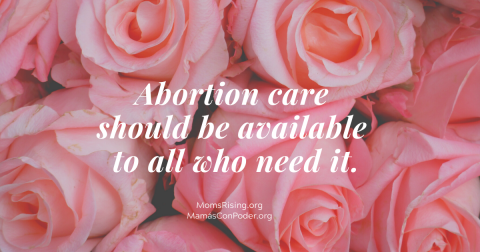 Support the EACH Act and Reproductive Justice for All
The decision to become a parent is one of the most important life decisions we make. When people can make decisions that are best for their lives, however much they earn, our families and communities thrive. We know that most people who get abortions are already moms; and we also know that no matter how we feel about abortion, politicians shouldn't be allowed to deny someone health coverage for it just because they are struggling financially. 
Sign on now to urge your lawmakers to support the EACH Act, a bill that will guarantee coverage for abortion without restrictions based on how much money we have, how we are insured, or where we live.
What is the EACH Act? 
The Equal Access to Abortion Coverage (EACH) Act is a bill that would repeal the Hyde Amendment, which restricts federal funds from being used to cover abortions across the country. The Hyde Amendment has pushed abortion care out of reach for people of color working to make ends meet, even with Roe v. Wade in place. The EACH Act will ensure that every person receiving insurance through our federal government will recieve equitable abortion coverage and care. It will also "prohibit political interference with decisions by private health insurance companies to offer coverage for abortion care." [1][2]
The EACH Act restores abortion coverage to those:
Enrolled in a government health insurance plan (i.e., Medicaid, Medicare), including those who live in the District of Columbia;
Enrolled in a government-managed health insurance program (i.e., FEHBP, TRICARE) due to an employment relationship; or
Receiving health care from a government provider or program (i.e., Indian Health Services, the Federal Bureau of Prisons, the Veterans Administration).[2]
Sign onto our letter right now to urge your member of Congress to support and co-sponsor the EACH Act: a necessary health care bill for women and mothers.
Women of color have been leading the movement to end abortion coverage bans in our communities and in Congress and we have them to thank for the introduction of the EACH Act. U.S. Representatives Barbara Lee, Jan Schakowsky, Diana DeGette, and Ayanna Pressley and U.S. Senators Tammy Duckworth, Mazie Hirono, and Patty Murray, introduced the EACH Act last month to ensure that every person will have insurance coverage for abortion and be fully in control of their own bodies and lives. 
With a new Congress in place, now is the time to act to lift bans that deny abortion coverage like the Hyde Amendment, and pass legislation like the EACH Act. People working to make ends meet, especially women of color, are done waiting. Public support for ending the Hyde Amendment is at an all-time high, with 62% of national voters supporting Medicaid coverage of abortion. [3]  Congress must work to enact policies that will protect and ensure abortion care so that everyone can live with economic security and dignity. 
Let's be clear, banning abortion doesn't end abortion — it just ends safe, legal abortion. Legislation such as the EACH Woman Act will ensure that harmful bans on abortion that deny coverage just because someone is struggling financially, like the Hyde Amendment, will be overturned. Lack of coverage should never stand in the way of anyone making the best decision for themselves and their family. Urge your members of Congress to support and co-sponsor the EACH Woman Act!
Together we can protect access to reproductive health.
- Diarra, Tina, Donna, Nadia, Felicia, Monifa, Kristin, and the entire MomsRising/MamásConPoder team
References:
[1] Rewire News, Ten Reasons Folks Should Care About the Hyde Amendment.
[2] All* Above All, EACH Act Fact Sheet 
[3] The Guttmacher Insttitue, Medicaid Coverage for Abortion