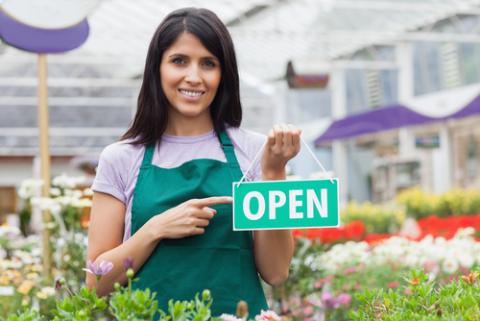 Support Moms on Small Business Saturday
Once the turkey has been carved and we are all recovering from pumpkin pie comas, hectic travel, and quality time with the family, the so-called season of giving begins. If you are anything like me though, you are trying to avoid the non-stop holiday shopping commercials on tv and instead are trying to get your gift buying done in a way that is both supportive of your local businesses and economy AND has a personal touch.
That's why I love Small Business Saturday! Created as a response to the craziness that is Black Friday, Small Business Saturday is an opportunity to support local, small businesses and still get our holiday shopping done (or just grab a cupcake and new pair of shoes for yourself…you've worked hard all year! You deserve it!).
This year how about going one step further and supporting some mom-owned small businesses. Women-owned businesses, and small businesses in particular, are booming! According the National Women's Business Council there are 9.9 million women-owned businesses in the United States—many owned by moms. According to an article on the topic by The Atlantic, "Growth has been particularly rapid among black and Hispanic women, who now make up about 14 and 11 percent of total women-owned businesses." 
When you support a mom-owned small business your purchase is really felt and appreciated. Tamar Azous, mom and owner of Grubbywear, says "Each sale means a lot to a small business. We're still at the stage in Grubbywear where every time we sell one I shout to my husband 'we sold a Grubby!' and then we high-five. I hope one day we'll have too many sales for that, and I know many small businesses do, but I like to think that each sale still brings a memory of that feeling, and also the knowledge that each sale can help a family be a little more comfortable."
Jenna Park, mom and owner of gourmet cookie company Whimsy and Spice discusses the challenges and benefits of small businesses during the holidays, "It's really hard to compete with big retailers when they offer free shipping and deep discounts—we can never offer those same perks and discounts and turn a profit. But shopping doesn't have to always be about money and chasing after the best bargains. Supporting a business you love—whether its because of their practices, philosophy, or story—is satisfying in a way that you won't get from shopping at big box stores."
Like all businesses, small businesses are trying to end the year on a high point, and for many, the holidays is one of the busiest times of the year. Kate Jensen, co-owner paper and party business anne and kate, says "Small business owners are some of the hardest working people on the planet! Sales for small retail companies spike during the holidays so supporting these businesses at this time helps them stay afloat during the slower months." In fact, for every $1 you spend at a small business $0.68 stays within the local community. You are boosting family-owned businesses and also helping the local economy.
Many small businesses feel deeply entwined with the local community, and give back themselves. Kimberly Bolden, mom-owner of Polka Dotted Bliss, says "Many small business owners give back to their community as well. I donate card-making and craft classes to charitable organizations each year."
And the thing I really love about shopping small is getting to know the shop owners and their employees. Ellen Turkanis, mom, and grandmother, and owner of children's clothing store Pint Size and Up explains, "The local stores know their regular customers well. They buy with them in mind and educate their customers about the products." And Teri Dimalanta, founder of Giddy Giddy, a children's hair clip company, says, "These local entrepreneurs bring variety to the marketplace and do so while taking a financial risk and working long hours and forgoing compensation, especially in the early years. I shudder to think what our communities would look like without these curators, artisans, niche boutiques. By supporting small businesses, I am making a small investment in my own community."
Owning your own business creates lots of possibilities for moms, chief among them a flexible schedule and being able to have a work-life balance. But it's still a lot of work and building a business from scratch creates its own challenges. "Having my own business as a mother is the greatest and the worst. I have ultimate flexibility since I work from an office in my home. I can volunteer at my daughter's school, tuck my son in for his nap, nurse my baby on demand. It feels so indulgent and wonderful to be able to do these things," explains Kate. "On the other hand, having a small business means there is never an end to the work to be done. There is so much uncertainty and managing two small businesses and family life is wild. Some days I wish for a steady paycheck and a real office to leave behind at the end of the day, but I wouldn't trade the flexibility for my family or the thrill of running the show and growing a business from the ground up." 
Teri echoes this sentiment, "I still remember when I had to hold and nurse my baby, all the while sewing products with my hands. You just find a way to make it happen. However being my own boss has many perks, and I appreciate and feel grateful for them all. I can take days off, I can decide what type of work I want to do on any given day. I can be generally available to my family."
Kids also learn important lessons by watching their moms start their own business. "Our girls see firsthand the dedication, challenges, and hard work involved in running your own business," says Jenna. "Now that they're older, they even have little opportunities here and there to help out. Kimberly says, "My kids also know they will one day have many career options, including entrepreneurship, by observing and learning from my experience. My 12 year-old told me last year that she has learned not to give up on anything by watching how I handle the inevitable speed bumps along the way." That is a lesson whose value cannot be measured!
Small businesses are also unique places to work. All of the mompreneurs I talked to pay their small amount of employees well above the minimum wage. And many of them hope to grow those family-friendly benefits along with their business. As Tamar stated, "As we grow going forward, we definitely want to be a 'people first' organization." But just as a reminder: we need to support these businesses by supporting policies on the federal level like raising the minimum wage and passing paid sick leave, paid maternity and paternity leave, and fair pay, because you shouldn't have to hit the boss lottery in order to access these family-friendly work policies. And by turning these great ideas into laws, we are also helping our local economies by providing moms with more money to spend at local businesses.
As you head out this weekend to do your holiday shopping we hope you will consider shopping small! Below you will find a list of some wonderful mom-owned small businesses around the country. Feel free to leave the name of a favorite mom-owned business in the comments section.
Happy Shopping!
Here is a list of small businsses owned by moms. Check them out this Small Business Saturday (and throughout the year. Also, many of them are offering special deals for Cyber Monday as well!) and make sure to tell us about the small businesses you love in your community!
Anne and Kate- Chicago, IL and Philadelphia, PA
Baby Lux-Scottsdale, AZ 
Betsy Brown Photography- Haddonfield, NJ
Boomerang Toys-New York, NY
Brim Papery-Columbus, OH
Bull City Running-Durham, NC
Busted in Detroit- Detroit, MI
Colemama Creations- Quaker Hill, CT
Copperfield's Books-Spring, TX
Coton Colors-Tallahasee, FL
Giddy Giddy Hair Clips- Portland, OR
Goldfine Jewelry- Minneapolis, MN
Grubbywear-Seattle, WA
Haughty Cosmetics-Alexandria, VA
Hayden and Halle- Marblehead, MA
Olive and Indio-Mt. Pleasant, MI
Lindsay Decor- Springville, CA
Leon and Lulu-Clawson, MI
Misha and Puff-Boston, MA
My House of Style-Birmingham, MI
New London Pharmacy-New York, NY
Pint Size and Up- Marblehead, MA
Polka Dotted Bliss- Alexandria, VA
Posh Pony-Midland, TX
Sarah Wells Breast Pump Bags-Alexandria, VA
Whimsy and Spice- Brooklyn. NY
Wonderland Bakery- Newport Beach, CA and Las Vegas, NV