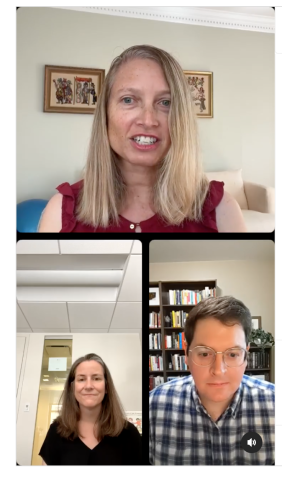 Support Healthier School Meals
Would you like to see healthier, more nutritious school meals served up in your child's school cafeteria? You now have a window of opportunity to make that happen by supporting the nutrition standards just proposed by the Biden-Harris Administration for the National School Lunch and School Breakfast programs. 
The Biden-Harris Administration is currently accepting public comments on a proposed rule to make nutrition standards for school meals healthier. The scientifically-based nutrition standards propose to limit sugar, increase whole grains, and lower sodium in school meals. The comment period is open until May 10, 2023. 
Click here to watch our short Instagram Live conversation on Healthier School Meal Standards, where we will answer many of your questions. MomsRising's Jessica Burroughs finds out more about this proposal and how you can show your support by talking with guests Samual Hahn of CSPI and Crystal FitzSimons of FRAC. 
The Biden-Harris Administration especially wants to hear from parents, so please take a moment to submit a comment. Each public comment MUST be read by the Administration, so your voice will be heard. Here are two options for showing your support and providing feedback: 
Quick signature: Add your name to MomsRising's letter of support for nutrition standards likely to improve both food security and academic performance for schoolchildren across the country
The proposed standards to protect kids' health will: 
Introduce added sugar limits for school breakfast and lunch, starting with sugar limits on certain high-sugar products like breakfast cereals and yogurt, and later phasing in a limit on the total amount of added sugar in all meals and snacks; 

Increase whole grains, requiring that at least 80% of the weekly grains in school breakfast and lunch to be grain-rich;

Reduce sodium gradually, aligning more closely to the FDA voluntary standards of lowering sodium levels; 

Strengthen the Buy American requirements in school meals;

Support schools in using more locally grown foods;

Invest in small and rural schools to help them improve their school meal nutritional quality; and

Seek input on how to include more culturally appropriate foods in meals served to American Indian and Alaskan Native students.
Do you like these proposed changes? Do you have additional suggestions? Please choose one of these three options, and share your input now: