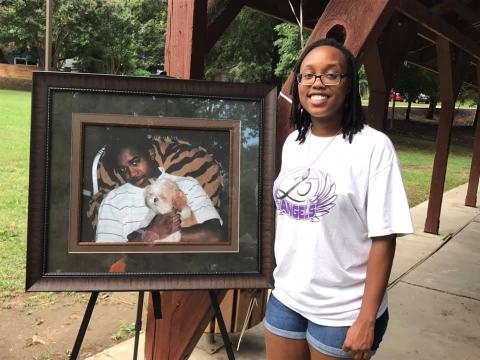 Support for Siblings of Gun Violence Victims
In my work with MomsRising in North Carolina, I recently had the honor of meeting Chantell Felder, who, in addition to working full-time and parenting a two-year old daughter, has recently created a unique non-profit to address the specific needs of young people who have lost a sibling to gun violence. I met her at a candlelight vigil honoring victims of gun violence sponsored by her non-profit, L5 Angels. After the vigil, she agreed to share her story here:
"My baby brother, Loney "L5" Felder V, was only 21 years old when he was gunned down in front of his home by his girlfriend's brother in 2015. Three and a half years after his death, I officially launched a non-profit, L5 Angels, to help siblings like me. 
People ask me why it took me so long to start a non-profit in his honor. It is because the violence came as a shock to me, and I definitely had a hard time healing from his death. Especially since we had gotten into an argument  and were not speaking at the time of his death it took me years to work through that grief. So I had to go through that healing process, and then I became a mother to my daughter, who is now two years old. 
Last year I was watching The Kalief Browder Story on Netflix. He took his own life; just seeing how his siblings responded to his death made me think about the death of my brother. I thought about how there's not really help out there for siblings going through such tragedies. So I started putting together a plan for my non-profit, and got the thumbs up from our family members before it launched. 
The basis of L5 Angels is both to get the word out about gun violence and also help individuals who are in the same situation as me, who have lost siblings to gun violence and need somewhere to turn. We let them know that they're not the only ones going through such a sad situation, and help them with community support. We provide a book scholarship fund to college students that have lost a sibling to gun violence. My board is comprised of five multi-racial women of different ages-- girl power! We are anti-gun violence, not anti-guns. I have personally shot guns, and one of my Board members owns a gun. 
Loney was an awesome guy. He was very funny, and children loved him, which makes me sad because my daughter will never know her uncle. He was very artistic. He loved the Power Rangers; growing up, he dressed up as a blue power ranger for at least six of his birthday parties! He was genuinely a good guy. Innocent people shouldn't be losing their lives because of guns."
Please visit the L5 Angels website to learn more. The group holds  monthly volunteer events and welcomes donations to the scholarship fund. Please spread the word about the scholarship fund and about L5 Angels. Consider following them on Facebook, Instagram, and Twitter.  Chantell has transformed her tragic loss into a courageous movement, providing much needed and often overlooked support to the siblings of gun violence victims.