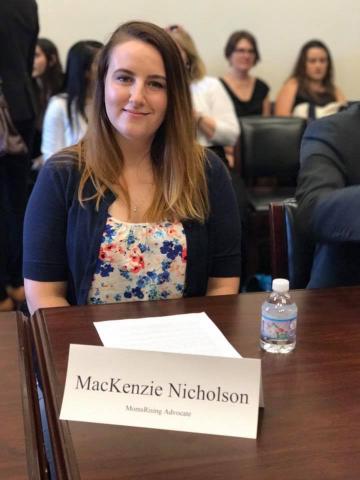 SuperMom MacKenzie Nicholson testifies before Congress on the importance of paid leave
Good afternoon everyone, and thank you to Congresswoman Frankel and the Democratic Women's Working Group for inviting me to speak today. My name is MacKenzie, I'm a proud MomsRising member from, New Hampshire. I'm a mother of two – a four-year-old son (whose birthday is today!) and a five-month-old baby girl. I also help care for my 62-year-old mother, making me a member of the sandwich generation. Over the past several months, my family has experienced both the joy of a new birth and the stress of an elderly family member's serious illness.  
My husband and I did everything we could to prepare for the birth of our daughter and arrange for her care once she arrived. The organization that I work for only offered 3 weeks of paid leave for a birth. I spent months saving up sick days and vacation time so I could have a meaningful amount of maternity leave to recover from a=my expected c-section and bond with my new baby girl. We also spent time arranging childcare for her for when I returned to work, and part of our plan included my mother caring for our newborn.
But life isn't always predictable, and all that preparation went out the window last July, when my mother had a stroke and consequently had to have a brain tumor removed. 
I was on my way to work one day (about 5 months before my baby was due) when I got a phone call from my father that my mother had been taken to the hospital because she didn't know her own name. 
Over the next few months while my mom was
treated
in two different hospitals (one two hours away from my home), I needed to use over a week of the limited vacation and sick time I was saving for my baby to care for my mom, leaving me with less time to care for my newborn. 
When all was said and done, after using time to care for my mom, I was able to cobble together two weeks of paid vacation and sick time to add to my three weeks of paid leave for a total of only 5 weeks home with my newborn to bond and heal from childbirth. 
Like many families I know, we are a two-income family. My husband and I both need to bring home a paycheck to make ends meet.
We cannot afford for either of us to miss a paycheck. And forced to choose between losing income or spending time with family members who are depending on us for care, we have to choose the paycheck or we risk setting our family up for even more pain. 
When my daughter was born five months after my mom got sick my husband quickly used up the two weeks of vacation he had banked as his make-shift "paternity leave",  I was left trying to combine working part time, short-term disability which paid only 60% of my pay,  and the two weeks of sick days I had left to come up with something as close to a full paycheck for as long as I could.
Our lack of paid family and medical leave also complicated our childcare arrangements. 
As I shared earlier, my mom had been part of our childcare plan, but her illness made that impossible. Because there are rarely any infant child care slots available in my area, and none of them accept infants under 6 weeks, my only option at that point was s to take my 5-week-old daughter to work with me. I've always been so jealous of parents who were able to take their children to work with them. They made it look so easy. I quickly found out that  this was not the case- it is incredibly stressful. My daughter had some health issues which made her miserable. The drive to work was an hour long, and by the time we got to my office, she needed to be fed and changed. Then we would head over to the State House. By the time I got her situated in a carrier, got into a hearing, and sat down, she would get cranky and tired again. Imagine being in a hearing, where everyone is already staring at you, and you know your baby is about to scream. After shushing her long enough to finish the hearing, we would race back to the office for nap time. Although my boss was incredibly understanding of the situation, I'm sure she didn't like working in the silent darkness as my daughter tried to nap. Frankly, I'm not sure how much work I ever got done. 
The stress of the unknown and the work/life balance took an enormous toll on my mental health. I was diagnosed with postpartum depression after I couldn't speak to my doctor without bursting into tears. It is incredibly embarrassing to stand here and tell you that I was not well. I was tired, stressed, and sick to my stomach worrying about my mom, money, childcare and how my son was taking to having a brand new sibling.
My husband and I have no paid sick days or vacation days for the rest of the year. I don't know what we'll do if one of the kids or my mother gets sick.
These kinds of life events don't discriminate – anyone, at any time, can fall sick or get injured. There are so many things that happen that we can't expect or plan for. Without paid family and medical leave, many folks in my position will be forced to leave the workforce or face financial strain while they care for their parents or their children.
More and more people in my generation are acting as caregivers to both children and parents, and we must take that into account as we consider our nation's workplace policies. It's not just new parents who need leave – some people need to take time off to look after an elderly family member or a sick spouse, or to care for their own serious health issues. Care is care is care. We shouldn't be abandoning families and risking their health  in their time of need. Our country needs paid family and medical leave that considers all the various compositions of modern American families. Something that works for families like mine.
Thank you. 
- MomsRising Member, MacKenzie
testified
before the Democratic Women's Working Group on June 21, 2017.