Superhero Party Food: Yummy way to recharge those tummies!
Got a little superhero in your life who needs a recharge? I hear you! I had twelve, in fact, at my son's fourth birthday party last month. Knowing the majority of my time was likely going to be spent making superhero capes (total hit) and games, the food had to be healthy and easy. Here are some fun ideas for yummy party snacks guaranteed to boost superhero powers!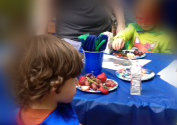 Kids couldn't get enough of the fruit.
Fruit bowl or veggie tray with finger-sized treats. We had a big bowl with small apples, and another with grapes and strawberries. We also had a tray with baby carrots and olives. Our party was in the fall, so the fresh apples were a big hit, and a portable snack the kids could eat on the move.
Healthy popcorn: This was another big hit: a huge bowl of popcorn, popped in a small amount of oil. At one point my son even climbed up on the table to get closer to the popcorn (I don't make it often enough, I guess!).
Finger-sized phyllo cups. I bought frozen appetizer-sized phyllo shells, but you could also make these yourself (tip: it's not hard to make phyllo shells yourself, but it does take a lot of time which I didn't have). We made two fillings: egg salad, and spinach & cheese. The kids really liked these too. Granted, some preferred the egg, others the cheese. But everyone found one they liked, and combined with the fruit and veggies had plenty to eat. Note: there are tons of phyllo cup recipes online; do a quick google search for more recipe ideas if neither of these sounds right for your party. 
Finger sandwiches made with superhero cookie cutters. OK, we didn't do this one! But I'm adding it here because we used farm animal cookie cutters to make little sandwiches for his 3rd birthday party and it was great. Just get some whole-grain bread and choose from any number of fillings: cheese, PB&J, egg salad, etc. Find the cookie cutters online or in a craft store.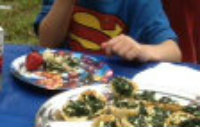 Spinach & cheese phyllo cups! Yum.
Quiches for adults. The spinach & cheese phyllo cup filling was easy to morph into a couple of quiches for adult guests too, which was an added bonus.
Juices & water. We had several drink options - a couple of kinds of juices, and water. This helped parents easily mix the amount of juice they wanted their kid to have.
Cake. We actually just bought a decorated vanilla cake from a bake shop, as I had trouble finding superhero-inspired DIY cake / cupcake recipes that didn't seem like they'd take a lot of time and skill. And although I love the idea of fondant, I've never used it before. But at another recent superhero party we saw cupcakes with little superhero logo rings inserted on them. That seems like an easy way to make and decorate superhero cupcakes yourself, so you have more control over the ingredients. Or just try free-handing spiderwebs or other superhero-y type images with icing or fruit!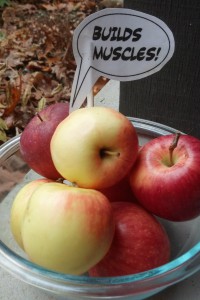 We created little signs with superhero-inspired slogans for each bowl of food, including:
Builds muscles!
Energy blast!
Enhances agility!
Boosts invisibility!
Increases parent patience! (We didn't actually create this one, but it was suggested to us for both the cake and the coffee! Love it!)
All in all, kids and parents ate well, and nothing took too long to prepare. Recipes below!
There are tons of phyllo cup filling recipes online - if these two don't sound right for you, do a quick google search and you'll find lots of other ideas!

Healthy Egg Salad Recipe (for phyllo cups)
http://allrecipes.com/recipe/healthy-egg-salad/

Ingredients:

6 hard-boiled eggs
1/4 cup fat-free mayonnaise
1 celery stalk, chopped
1 carrot, shredded 
2 tablespoons minced red onion
2 tablespoons Dijon mustard
1 tablespoon white wine vinegar
1/2 teaspoon salt
1/2 teaspoon hot pepper sauce

Mash hard-boiled eggs using a fork in a large bowl; add mayonnaise, celery, carrot, red onion, Dijon mustard, vinegar, salt, and hot pepper sauce. Mix well. Refrigerate until chilled, at least 30 minutes.

Spinach Phyllo Cups
http://allrecipes.com/recipe/spinach-phyllo-cups/

Ingredients:
1 egg, beaten
2 cloves garlic, finely minced
1 (8 ounce) package crumbled feta cheese
2 (10 ounce) boxes frozen chopped spinach, thawed and squeezed dry
3 (2.1 ounce) packages pre-baked mini phyllo dough shells

Directions
Preheat oven to 400 degrees F (200 degrees C).
Mix the egg, garlic, and feta in a large bowl. Stir in the spinach. Place the phyllo shells on flat baking sheets, and fill with the spinach mixture.
Bake in preheated oven until hot, 6 to 8 minutes.
Makes 45 cups
Moms know healthy food makes healthy kids! Check out MomsRising.org's work around healthy school foods and junk food marketing to kids.