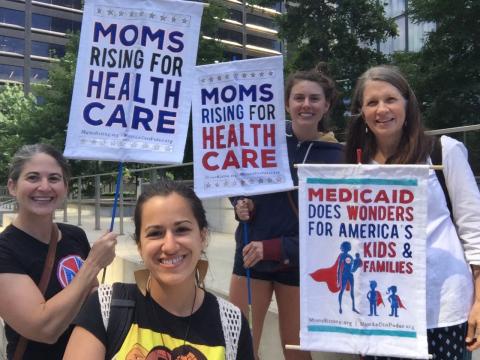 Summer Road Trip, MomsRising Style!
This week, MomsRising staff members and volunteers from Ohio, Pennsylvania, and West Virginia have been joining together at different Senate offices across the three states to raise their voices and fight for health care.  
This trip has been inspiring.  At every stop, powerful stories were shared with elected officials and their staff.  Here is a quick snapshot of what has happened over the past few days!
- Pittsburgh, PA: We had 15 people, and we joined with another 6 in the lobby. Did some cheers outside, and delivered storybooks, with stories from moms and dads from every state in the nation, about the importance of Medicaid, ACA, and SNAP. More importantly, we shared our stories with our group, the media, and Senator Toomey's office staff.
- Cleveland, OH: We had 6 people, and again incredibly moving stories. Local news showed up and interviewed us before and after.
- Here are some images from some of the other stop on our #HealthCareRoadTrip, Cincinnati and Columbus!
Along with this awesome road trip, MomsRising has been on the ground in Colorado, Tennessee, and Arizona!
Want to join? Here is where our #HealthCareRoadTrip activists will be tomorrow, June 28th:
Check back tomorrow for updates on our #HealthCareRoadTrip!