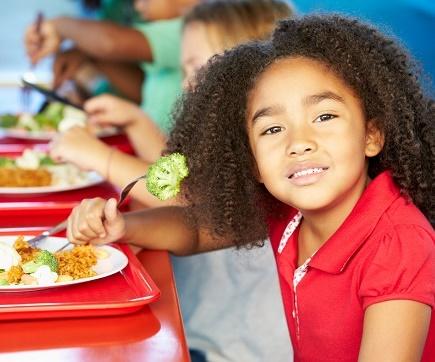 Success Begins with School Breakfast
If you skipped breakfast today, you may be finding it difficult to concentrate. You're not alone. Tight family budgets and busy morning schedules can mean many students arrive at school hungry and unprepared for the day ahead. Fortunately, the National School Breakfast Program ("NSBP") can give students a better start to their school day.
The benefits of school breakfast cannot be overstated. States and school districts that have made the commitment to meet the nutritional needs of their students are ensuring that their students are able to make the most of their time in the classroom. Children who eat school breakfast show increased concentration and participation, better test scores, and have fewer absences and discipline problems.
FRAC's School Breakfast Scorecard reveals that on an average school day, 12.1 million low-income students participated in school breakfast during the 2015–2016 school year, an increase of nearly 433,000 children from the previous school year. While this is certainly progress, there is still much room for improvement.
FRAC has set an ambitious, but achievable, goal of reaching 70 low-income students who qualify for free or reduced-price school breakfast for every 100 who eat school lunch. Nationally, on an average school day in school year 2015–2016, 56 low-income children participated in the School Breakfast Program for every 100 who participated in the National School Lunch Program – a ratio that has been steadily increasing. Several states already meet or are close to the 70:100 goal.
FRAC's School Breakfast: Making it Work in Large School Districts, a companion report to the Scorecard, examines School Breakfast Program participation rates and trends in 73 of America's largest school districts. Of the 73 school districts surveyed for this report, 26 achieved FRAC's benchmark of serving 70 low-income children with school breakfast for every 100 receiving school lunch. Many of the top-performing school districts — Los Angeles Unified School District and San Antonio Independent School District, among others — serve a particularly high proportion of students from low-income households because they have implemented proven strategies to increase breakfast participation.
These districts have adopted breakfast after the bell models, where breakfast is served in the classroom, from "grab and go" carts in the hallway, or during a morning break after homeroom or first period. The state story is similar; the top two states, West Virginia and New Mexico, and the third-ranked District of Columbia, all have maintained strong school breakfast participation among low-income children as a result of innovative state legislation that required all or some schools to offer breakfast after the bell.
Community eligibility, which rolled out nationally in the 2014–2015 school year, also successfully increased school breakfast participation in a number of high-performing states and school districts in this year's reports. By allowing school meals to be served free of charge to all students at high-poverty schools, doing away with applications, community eligibility eliminates the stigma that the school meal programs are only for low-income children and facilitates implementation of breakfast after the bell models.
Massachusetts, Kentucky, and Connecticut saw extensive community eligibility expansion in school year 2015–2016, and their free and reduced-price school breakfast participation increased by 15 percent, 10.7 percent, and 10.1 percent, respectively. As of spring 2016, there were more than 18,000 high-poverty schools, serving 8.6 million children, offering all students free breakfast and lunch through community eligibility.
Still there is much progress to be made to ensure that all low-income children can reap the academic and health benefits of school breakfast. Further expansion of best practice strategies is critical to continued growth — and FRAC is committed to working with the U.S. Department of Agriculture, state agencies, advocates, and school districts to keep up the momentum.
To find out how to increase school breakfast participation in your state or local community, check FRAC's School Breakfast page and Community Eligibility page.