We Are MomsRising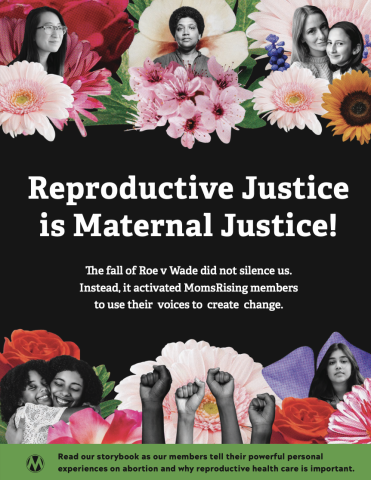 Story time: The fall of Roe v Wade did not silence us. It activated us.
Why is abortion critical for moms?
America's moms were faced with the unthinkable reality when the U.S. Supreme Court relegated our autonomy to the states, making our ability to access the reproductive health care we needed almost impossible. Everything changed for every woman, every family, and every mother this year.
Six in ten people who have abortion are moms and polls show the majority of people in America agree: abortion
care should be accessible to all who need it. Being able to choose if we have children, and if so, when and how many children to have, is a fundamental human right. MomsRising members know that having authority over what we do with our bodies is not limited to our reproductive rights but has helped to narrow the gender pay gap, improve the health of women and their families, and led women toward access to increased economic and political power.
Why is Maternal Justice, Reproductive Justice?
According to research conducted in 2019 by the Guttmacher Institute, the reversal of Roe impacts the lives of millions of women. The Institute found that, "8% of U.S. women of reproductive age (nearly 40 million women) live in states that were considered hostile to abortion rights and six in ten (60%) of this demographic are people who are already parents," (keep in mind that this statistic does not include all gender identities). Because of how harsh and strict some state laws are on abortion, a pregnant person facing health complications, pre-existing medical conditions or suffering from severe diagnosis do not qualify under "reasonable medical judgement" to recieve an abortion. Even in cases where the pregnant person who is advised by medical experts to receive an abortion cannot if they live in a state where abortion is illegal. 
Abortion access is a critical part of maintaining Reproductive Justice and a future where every person can make their own decisions with dignity and self-determination.
Studies show that the loss of access to abortion will likely result in an increase in maternal morbidity rates. According to the CDC, about 700 women in the U.S. die annually as a result of pregnancy or related complications and at least 50,000 women each year experience potentially life-threatening complications in childbirth that can have serious and life-long consequences for women and their families.
The racial disparities are appalling, with Black women three times more likely to die from a pregnancy-related cause than White women. Because racial disparities and social, health, environmental, and economic determinants already exist, the highest amount of people that will die annually from unsafe abortions will be Black women and women of color. There is no nice way to put it, our literal lives are on the line.
How is MomsRising taking action?
MomsRising has collaborated with reproductive justice organizations like Center for Reproductive Rights, UltraViolet, SisterSong, SHEro Mississippi, Mississippi in Action, and Movement 4 Black Lives, to capture what our needs are right now. The burdens that folks are forced to face at this very moment are endless and expand far beyond denying our rights to make decisions about our bodily autonomy. Financial, physical and virtual safety, immigration protections, and privacy rights have been, or are in threat of being, stripped away from us as well. As we appreciate and applaud President Biden's Executive Orders to defend reproductive rights; we also know they are the first steps of many steps to come. As activists, advocates, and people who love someone who may one day need an abortion, it is critical that the Administration immediately add the following to their action plan to further protect our reproductive rights:
Utilize available public health and disaster authorities, including but not limited to declaring a national emergency and a public health emergency.

Defend and expand abortion coverage and affordability.

Appoint judges who will defend abortion, democracy, and LGBTQIA+ human rights.

Ensure immigrants can access abortion care without fear of deportation, detention, or criminalization.

Stop the criminalization of pregnancy outcomes, miscarriage, and self-managed abortion.

Expanding access to medical abortion.
The option to make decisions about our bodies, lives, and futures is essential to the pursuit of not only racial and reproductive justice but economic justice as well. States with anti-abortion laws force folks to travel long distances, create additional expenses like hotel accommodations, and child care in addition to the payments needed for the procedure. Families are forced to participate in a never-ending cycle of poverty leading to generational trauma and psychological damage.
The effects of anti-abortion laws falls hardest on those who are already marginalized by our health care system. Without question, low-income women, women of color, young and immigrant women, rural women, people with disabilities and those who are LGBTQ will suffer the most through devastating health and economic consequences.
America's moms will fight for what our country deserves: lawmakers who will protect our liberties and a judiciary that supports equal justice for all. As women, mothers, caregivers, we aren't backing down. Our strength is prevalent and our demands are non-negotiable. Anti-abortion politicians do not get to decide the fate of our lives and what we choose t do (and not do) with our body. Those decisions belong to us and us only.
Regardless of what anyone says: Abortion is basic health care and now is the time to ensure that every person with the ability to give birth has access to the legal right to abortion care.
Please read, share and use these stories from MomsRising members from across the country to take action. Our real and unique experiences are powerful tools for change and bring life and voice to nameless statistics. Together, we will continue to demand freedom from state violence and to be treated with dignity and respect. We demand liberation for ourselves and our communities.
This is not the end.
We will keep being loud about our reproductive freedom. We will keep taking action. We will continue to speak against those that aim to deny our human right to reproductive health care.
Sincerely,
Diarra Diouf, Campaign Director, MomsRising