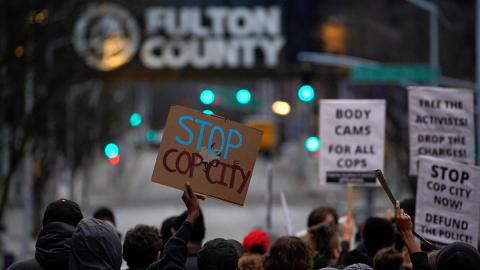 #StopCopCity Advocates Need Your Help!
On May 31st, Georgia police raided and arrested Adele MacLean, 42, Marlon Scott Kautz, 39, and Savannah Patterson, 30, on charges of charity fraud and money laundering. These organizers are the leaders of the Atlanta Solidarity Fund, an organization providing crucial bail money to arrested "Stop Cop City" protesters.
Tell Georgia Police to Drop Charges Against Bail Fund Organizers!
Over the past year, Atlanta citizens have battled Georgia officials over the construction of a new police training facility, nicknamed "Cop City". This facility will be the largest training facility in the country and will heavily impact the lives of surrounding communities, while simultaneously becoming an ecological disaster. The Atlanta City Council and Dekalb County Zoning Board have heard the voices of the Atlanta people but continue to protect this project.
Say NO to Cop City! Invest in Communities, Not Police!
Georgia police have increased intimidation tactics in efforts to deter "Stop Cop City" protesters. Prosecutors have charged several protesters with domestic terrorist charges and police have killed a protester. The latest intimidation tactic has been in the form of arresting the organizers of the Atlanta Solidarity Fund¹.
Legal experts believe that prosecutors will have a hard time defending this case as the case does not hold much legal merit. The presiding judge has granted the organizers bail and questions the legitimacy of the case as the case seems to impede on first amendment rights².
These intimidation tactics have not swayed activists and will not sway a court of law.
Stand with MomsRising as we continue to support the residents of Atlanta who turned out by the hundreds in opposition of "Cop City" and the "Stop Cop City" protests.
We will continue to advocate for alternatives to police and for accountability against police brutality.