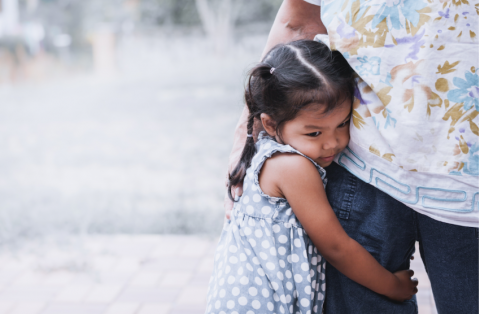 Stop separating babies from their families!
My daughter will be eight months old this Saturday. From the moment my doctor put her on my chest after 48 hours of labor, I was obsessed. I remember not even wanting to give her over to have tests done and to this day I still cringe when I need to leave her for more than a few hours to work.
As a mother, the ability to care for my child is the most important thing in my world. But right now, in Trump's America, the Trump administration is taking newborns, infants, and children away from their parents. This happened to a mother in Texas who cried for 72 hours straight when her newborn was taken away from her at birth. [1] It also happened to Constantine, who was only 4 months old when he was taken from his father and put in foster care, hundreds of miles away. His father couldn't sleep, refused to eat and constantly wept while his son was in a detention facility. [2]
The is just un-freaking-believable and I cannot, and will not, accept this as our new reality. I look at my little girl and I for one know that I can't stand by while this administration rips families apart and violates basic human rights.
These atrocities must stop now! Join me to call on Congress to hold the Trump Administration accountable by saying "not one penny for ICE and Border Patrol's separation of families" and instead fund community organizations to address the humanitarian needs of immigrants!
We've seen heartbreaking story after heartbreaking story of people who have come to the United States seeking asylum and protection having their human rights violated under the direction of the Trump administration. At least seven migrant children have died in US custody since last year [4], detained children ages 5-12 were held in vans for almost 2 days straight [5], and children are now having their access to education, physical activity and legal representation cut off. [6]
Adding to these horrors are the experiences of mothers whose newborns are literally being taken out of their arms to face an uncertain future, away from their families, who want and love them. Advocates report that some asylum seekers in the Western District of Texas who have given birth in Marshals Service custody were forced to hand over their newborns to the Texas Department of Family and Protective Services. [7] Reuniting with their newborn hinges on their release from federal custody, and whether they can access legal help to navigate the child welfare system, which is even harder to do with language barriers. [7]
This is inhumane and unacceptable. Sign now to urge Congress to stand against the separation of families and cruel treatment of immigrants, and use the power of the purse to halt the cruelty to immigrant children and families.
A leaked administration memo and a review of multiple policies and actions by the Trump administration in the last two years shows that inflicting harm on children was central to a policy goal, or collateral damage that the Trump administration felt was worth the underlying policy goal, or was given very little attention to mitigate the harm that would clearly result from various policies. [9]
This is completely unacceptable.
Join us in calling on Congress to fully execute its oversight responsibilities and to cut funding for family separation through ICE and Border Patrol and instead fund community organizations to address the humanitarian needs of immigrant children and families.
The Department of Homeland Security is already awash with funds that have done little to address the refugee crisis, and instead, have ramped up the jailing of families.
It's time to deliver solutions to address the refugee and humanitarian crisis:
Fix the mismanagement at the border by ensuring the safe, fair, orderly and efficient processing of asylum applications. Those who win can stay in the U.S. and those who don't win are sent back.
Provide counsel to kids so they can have their case heard.
Address the root causes of migration by working together with our neighbors through diplomacy, strategic aid, and public and private initiatives.
Together, we must stand up for immigrant families.
[1][7][8] Rewire.News. Trump Administration Separates Some Migrant Mothers From Their Newborns Before Returning Them to Detention.
[2] NY Times. The Youngest Child Separated From His Family at the Border Was 4 Months Old. 
[3][4] NBC News. Why are migrant children dying in U.S. custody?
[5] NBC News. Botched family reunifications left migrant children waiting in vans overnight.
[6] Time. U.S. Government Cuts English Classes, Recreation Funding for Sheltered Immigrant Kids.
[9] Trump admin weighed targeting migrant families, speeding up deportation of children.