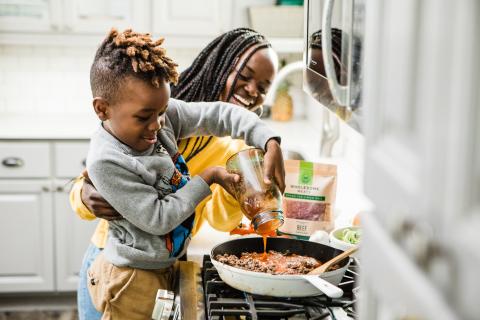 Stop attacks on hungry families! Sign Now.
One of the strongest tools our nation has in combating hunger is the Supplemental Nutrition Assistance Program (SNAP). Unfortunately, this vital program is under attack by some Republicans in Congress, threatening the food security of millions of families.
We need you to join us in speaking out against attacks on SNAP and calling on the U.S. Congress to strengthen the program, not create barriers to access or funding cuts. *TAKE ACTION: Sign our letter to the U.S. Congress calling on them to strengthen SNAP and protect it from needless attacks!
Here's what's going on: Right now the SNAP program (also known as food stamps) is under multiple attacks. Since March 2020, Congress allowed states to use temporary SNAP EAs (emergency allotments) to provide emergency support for extra SNAP dollars in response to the ongoing COVID-19 pandemic. [1] The additional funding for SNAP was essential in allowing a substantial amount of people to feed their families. 
However, the deadline for a majority of states' and U.S. territories' SNAP EAs just ended this month–creating a major "hunger cliff" for millions of families. This hunger cliff will result in the average SNAP benefits falling to only $6 A PERSON A DAY after the program benefits go back! [2] The steepest hunger cliff will be for older adults at the minimum benefit level who will have their monthly SNAP benefits fall from $281 to $23 but all SNAP recipients will be impacted. As the extensions to SNAP are ending on top of the growing cost of food, housing, transportation, childcare and more, families need continuous support from a strengthened SNAP program! 
In addition, the Republican-controlled House of Representatives has made various threats to SNAP over the past few months–calling for strengthened work requirements which would result in more hungry families being unable to access the food they desperately need (note: SNAP already has a pretty stringent work requirement for many individuals). The House GOP also is threatening to further reduce benefits in various ways. [3]
We need your help in speaking out for hungry families! SIGN our petition now supporting SNAP!
Luckily we have a bipartisan opportunity to strengthen SNAP and make sure more families can access the food they need to stay healthy and strong. Congress will reauthorize the Farm Bill this year. This is the major piece of policy that legislates SNAP. We need to make sure our elected leaders use this opportunity to lift up struggling families and give them the assistance they so desperately need. We also need to make sure that our elected leaders are aware of the economic benefit of SNAP: every SNAP dollar generates between $1.50 and $1.80 in economic activity. [4]
***Don't forget to SIGN NOW to support SNAP! After you sign our letter please forward this email to your friends and family and post our action link to social media. We need to make our voices heard loud and clear on Capitol Hill that our families expect Members of Congress to strengthen SNAP and protect struggling families. Together we are a powerful voice for children and families! 
P.S. We would love to hear your SNAP and/or WIC story! Share your experience on how these programs uplifted your family and why protecting and strengthening SNAP and WIC is important to your family.