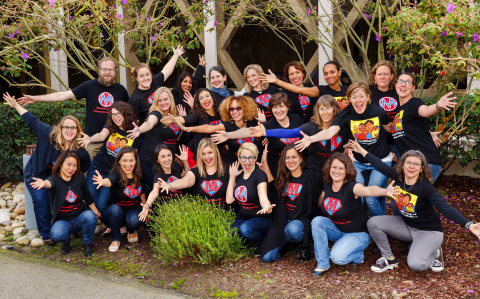 Still We Rise: 9 Amazing Ways YOU Made an Impact for Women and Families in 2016
Before we get too far into the New Year, I wanted to take a moment to thank our MomsRising supporters for powering incredible MOMentum in 2016.
Looking back, it wasn't that long ago that women's and family economic security -- from paid family leave to equal pay – were barely part of the political conversation.
Now, these policies are often center stage.  In fact, these policies were often debated during the Presidential election and we're seeing municipalities pass the policies that moms, dads and families prioritize; corporations enact policies that meet the needs of our diverse, modern workforce; and  lawmakers citing the concerns of mothers as they support early education, healthcare and commonsense gun safety policies.
More and more people are coming to realize what you and I already know – when women and families rise, we ALL rise.
Everyone here at MomsRising continues to be amazed at and grateful for your kindness, your passion, your generosity…and your unyielding optimism! Together we're a powerful force for women and families.  
So to celebrate what we've accomplished together, and to fire us up for the challenges ahead, we're highlighting 9 amazing ways MomsRising members made an impact in 2016.
As we head into the uncertainties of a Trump administration, the MomsRising mission is more important than ever. We will never, ever stop defending the rights and economic security of mothers and families.
Still we rise.
YOU'VE BEEN BUSY: MomsRising members took over A MILLION actions in 2016 – from phone calls and meeting with legislators to sharing stories with the media and signing petitions. Keep up the good work!
1. SERIOUS MOMENTUM FOR PAID FAMILY LEAVE
MomsRising members continue to propel a wave of paid family leave laws in 2016. New York state became the 4th state to pass state-wide paid family leave insurance. Washington, D.C. passed the most progressive paid family and medical leave insurance program in the nation. And for the first time, paid family leave was on the policy agenda of BOTH the Democratic and Republican Presidential candidates.
MomsRising members (and babies!) speak out for paid family leave in Washington, DC.
2. SECURED: INVESTMENTS IN AFFORDABLE CHILDCARE & PRE-K
Your activism helped pass policies and secure investments that give more people access to affordable and high quality childcare.
NORTH CAROLINA: The state allocated $1.3 million in recurring funds to provide 260 new pre-k slots and the same amount to add 260 new slots for child care subsidies!

SEATTLE: The Seattle School Board voted to continue and expand access to preschool by partnering with the Seattle Preschool Program.
Kids enjoy a fun day of games, balloons, and advocacy for high quality early learning in WA state.
3. KICKING SODA OFF THE KIDS' MENU
After years of pressure from MomsRising members and our partners, Jack in the Box announced it will drop sugary sodas as an option from kids meals and menus. The chain joins Wendy's, Burger King, Dairy Queen, Applebee's and IHOP in offering healthy options for kids.
MomsRising members care deeply about a wide variety of issues that affect the health and well-being of children.
4. STATE GAINS ON EQUAL PAY
Your stories matter, and helped sway lawmakers in Maryland and Massachusetts to pass new equal pay laws, sparking in increase in similar legislation across the country.
MomsRising member Adria H. speaks out regularly to support equal pay.
5. OVERTIME PAY: WE'RE WORTH IT
Tens of thousands of MomsRising members reached out to the U.S. Department of Labor, urging them to change the overtime rules so that workers get paid for all the hours they work. In May, they listened, approving new rules on overtime pay, which will  boost the pay of 6.4 million women when it is implemented.
6. BLOCKING OPEN CARRY IN FLORIDA AND CLOSING THE CHARLESTON LOOPHOLE IN DELAWARE
In February, the Florida senate announced that open carry everywhere was off the table in the 2016 session, inspired by the outcry from parents across the country who don't want to bring their families on vacation where they can see guns everywhere. In June, the Delaware State Assembly closed the so-called "Charleston Loophole," which required dealers to provide weapons to some buyers before they clear a background check. These tremendous victories were possible because moms, dads, grandparents and other family members made their voices heard, sending emails and phoning their lawmakers.
7. SAYING NO TO A MUSLIM REGISTRY
When President Trump proposed instituting a Muslim registry – registering and tracking people simply because of their Muslim faith – the MomsRising movement sprung into action. Together, we successfully urged the Obama administration dismantle the regulatory framework for NSEERs- a Bush era registry that was used to track immigrants from Muslim countries, making it harder for the Trump administration to institute a Muslim registry.
8. ¡NOSOTROS TE ESCUCHAMOS! 
Our Spanish-language counterpart @MamasConPoder won the #Latism16 award for best nonprofit organization reaching out to the Latino community!
9. NONSTOP: 14 NEW MUNICIPALITIES ENACT PAID SICK DAY PROTECTIONS
This is what a movement looks like! Fourteen new municipalities passed paid sick day laws in 2016
STATES (3): Vermont, Washington and Arizona
CITIES (10): Los Angeles; Santa Monica, CA; Plainfield, NJ; Spokane, WA; Minneapolis; San Diego; Chicago; Berkeley, CA; St. Paul, MN; Morristown, NJ,
COUNTY (1): Cook County, IL
Want to power the next wave of wins? Become a MomsRising Champion monthly supporter. Your small, steady monthly pledges will help us defend women and families all year long.
Not ready for monthly giving – make a one-time gift here!