Get Your Sticker!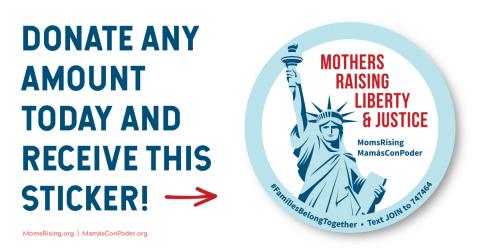 Sticker Time! Moms Raising Liberty & Justice
Changing the world doesn't have to be scary. With MomsRising, standing up for moms and children can be inspiring and fun.
That's why, by popular demand, we're printing more of our "Mothers Raising Liberty & Justice" stickers that have energized MomsRising members around the nation, so you can show your support for women, moms, and families whenever and wherever you want.
Check out this inspiring video, then make your donation and get our exclusive Moms Raising Liberty & Justice sticker!
Contribute to MomsRising today to protect women and families — whatever you can afford — and we'll send you this special "Mothers Raising Liberty & Justice" sticker.
Your donation today will strengthen our fight for policies that help children and families everyday, from standing together for refugee and immigrant moms and families, to protecting healthcare, to enacting gun control, to winning fair pay and paid family and medical leave laws. And so much more!
Chip in today to secure your "Mothers Raising Justice & Liberty" sticker.
Thanks for being a part of this wonderful community and powerful movement!