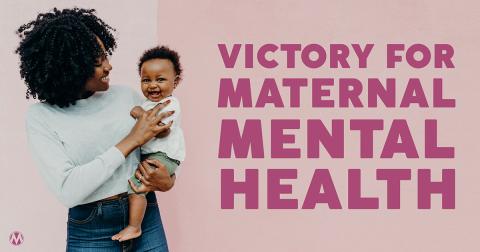 Stepping into the Light of Triumph for Maternal Mental Health!
They say teamwork makes the dream work. We are set to find out how that concept will unfold on the issue of maternal mental health in the United States. With your help, the bipartisan TRIUMPH for New Moms Act ("TRIUMPH") (H.R.4217/S.2779) and Into the Light For Maternal Mental Health and Substance Use Disorders Act (H.R.7073/S.3824) passed Congress in its end-of-year omnibus. This progress towards addressing maternal mental health is due in part to your calls, your emails, and your voice in supporting new families!
TRIUMPH will promote federal collaboration between agencies and departments by creating the first-ever national maternal mental health task force. The work of the task force will be to identify, evaluate, and make recommendations to coordinate and improve federal responses to maternal mental health conditions. This legislation is important because maternal mental health issues, though not often discussed, are prevalent. The birth of a child is generally a source of excitement and joy but the perinatal period can also bring on or deepen mental health issues. Whether it is widely talked about or not, the fact remains that maternal mental health disorders are the most common pregnancy and childbirth complication. New parents of all cultures, ages, races and income-levels deal with these conditions. And it has been demonstrated that women of color face even higher barriers to accessing treatment. 
The task force is comprised of representatives from federal agencies and departments as diverse as the Centers for Disease Control and Prevention (CDC), the Substance Abuse and Mental Health Services Administration (SAMHSA), the Indian Health Service and the Office of Minority Health of the Department of Health and Human Services, among several others. In addition the task force will include representatives of medical societies and nonprofit organizations with expertise in maternal or mental health.  This body will also be able to provide recommendations to House and Senate Committees as well as to state governors.  
And there is even more good news on the maternal mental health front! The omnibus package also included the Into the Light For Maternal Mental Health and Substance Use Disorders Act. This reauthorizes and expands grants to states to create programs to address maternal mental health conditions. It also establishes and funds a dedicated national maternal mental health hotline to provide 24/7 voice and text services. 
Indeed these are positive steps with which to begin 2023! It was not a given that these legislative successes would be accomplished at the close of last year. Given the deep divisions of our nation it is encouraging to see that there was support on both sides of the aisle for these critical pieces of legislation and we, at MomsRising, are hopeful that it will help to thoughtfully and effectively address the complexities of maternal mental health issues in a way that benefits, all birthing people and their families.