Tweetchat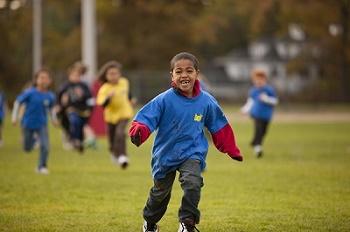 Staying Active as We Head Back to School! #FoodFri
Author's Note: Although this chat ended you can click to read the September 2, 2016 #FoodFri STORIFY - a curated list of said chat's tweets compiled into a story format, to learn more about the topic, review chat resources and engage with chat panelist(s) and participants.
Studies have shown that children and teens require a minimum of 60 minutes of exercise. The good news is that exercise can include what most children already love to do. Games like tag, jump rope, soccer, soft ball and dancing are just a few of the ways that children and teens can incorporate active movement into their day. Yet, there is so much more!
Join #FoodFri on September 2, 2016, between 1-2 p.m. EST /10 a.m. PST for a jam packed tweetchat to discuss staying active as we head back to school. Joining @MomsRising this week are four (4) very special experts:
We hope you'll join us and invite a friend (or two!) by clicking below.

Tweet: Let's discuss how kids can stay active this #backtoschool season http://ctt.ec/xIAwi+ Join #FoodFri 9/2, 1pET. Spread the word & #retweet
---
To join and follow the conversation on Twitter use the #FoodFri Hashtag in each tweet.
You can also follow the chat on Twubs.com/FoodFri. Twubs allows you to follow MomsRising's registered hashtags by creating an account. Below I have noted the steps.
Create an account using an email or your Twitter account.
Enter the desired hashtag, #FoodFri, #WellnessWed or #EcoTipTue, in
the search box found at the top of the page. Click Enter. A new page
will open with the desired chat.
Find the "Join This Twub" button found on the right-hand side bar and join the group.
Adjust the speed of the conversation to your liking. Options are: Fast, Medium, Slow, Slower, or Slowest.
Introduce yourself and join the conversation, by entering your
comment, tips, or questions in the "Tweet to #FoodFri as [YourName] box"
Or, respond to a specific tweet by hovering over the right-hand side of the individual's tweet and selecting one of the icons.
---
More about our #FoodFri Featured Co-Host(s):
Afterschool Alliance is the only organization dedicated to raising awareness of the importance of afterschool programs and advocating for more afterschool investments to ensure that all children have access to affordable, quality afterschool programs.
To learn more about the Afterschool Alliance follow them on Twitter, @afterschool4all, and Facebook, facebook.com/afterschoolalliancedc.
Voices for Healthy Kids, a joint initiative of the American Heart Association and Robert Wood Johnson Foundation, is working to help all children achieve a healthy weight.
To learn more about Voices for Healthy Kids follow them on Twitter, @Voices4HK.
The National Foundation on Fitness, Sports & Nutrition believes that the strongest America is one where every citizen has the opportunity to lead a healthy lifestyle. As the official foundation of the President's Council on Fitness, Sports & Nutrition, the National Foundation is the only congressionally chartered nonprofit with the sole focus to help more Americans be active, play sports & eat healthy. Through private donations and partnerships, the Foundation supports programs and initiatives that educate, engage, and empower Americans of all backgrounds and abilities to adopt a healthy lifestyle. For more information, visit fitness.foundation.
You can also follow the National Foundation on Fitness, Sports & Nutrition on Twitter, @FitnessFndn, and Facebook, facebook.com/FitnessFndn.
NFL PLAY 60 brings together the NFL's long-standing commitment to health and wellness with partner organizations. PLAY 60 also is implemented locally, as part of the NFL's in-school, after-school and team-based programs. Since the program was launched in 2007, the NFL has committed more than $325 million to youth health and fitness through programming, grants, and media time for public service announcements. The NFL and its teams have built more than 200 NFL Youth Fitness Zones and integrated programs into more than 73,000 schools nationwide since the campaign launched. All 32 clubs activate PLAY 60 locally, with more than 2,000 NFL PLAY 60 events held annually. For more information, visit NFLRUSH.com.
You can also follow NFL Play 60 on Twitter, @nflplay60, and Facebook, facebook.com/NFLPLAY60.