State of the Union, Getting Covered with the Affordable Care Act and More in the MomsRising's Weekly Blog Roundup!
Game time - in more ways than one! MomsRising members across the nation watched the State of the Union address and tracked the policies moms and families care about during a national game of BINGO! Indeed, shouts of BINGO! were heard across the nation that night because the president not only noted that we need to take action on these critical policies in order to help both our families and our economy thrive. He also led a call to action, stating: "This year, let's all come together -- Congress, the White House, and businesses from Wall Street to Main Street -- to give every woman the opportunity she deserves." MomsRising Executive Director/CEO Kristin Rowe-Finkbeiner recapped the momentum in a Huffington Post article. There was also a big football game a few Sundays ago - congratulations to the Seattle Seahawks! And now let's get to it: Here are the top five from the MomsRising blog this past week. Comment on your favorite posts and ask your friends and family to join the conversation, too!
 ****
#Radio This Week – Happiness
Mahatma Gandhi once said, "Happiness is when what you think, what you say and what you do are in harmony." With this quote in mind, this week's radio show covered a host of topics, including football, democracy, patriotism, unemployment insurance and the FAMILY Act. MomsRising's Executive Director/CEO Kristin Rowe-Finkbeiner was joined by U.S. Rep Sandy Levin, Ranking Member of the House Ways and Means Committee; Ruth Martin, MomsRising.org; Eric Liu, award-winning author, educator and civic entrepreneur, including founder of Citizen University; as well as John de Graaf, award-winning author, documentary filmmaker and co-founder of the Happiness Initiative.
You can listen to the show on 1480 AM WeAct Radio in Washington, D.C., TuneIn and iTunes.
 ****
Fizz Off! Young Voices Counter Coca-Cola & Soda Industry
Wendy Lesko, president of the Youth Activism Project, highlights young people who are raising awareness about soda and healthy eating. Check out the examples of youth activism in her post.
****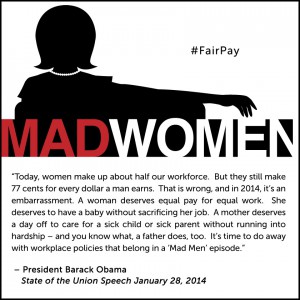 MomsRising of North Carolina celebrates MLK Day with kids, crafts
During the MLK Holiday, Beth Messersmith and Felicia Willems of MomsRising hosted the 4th annual "Children's Birthday Party for Dr. Martin Luther King, Jr." Read about their experiences in this blog post.
 ****
Has "Breast is Best" Jumped the Shark?
The discussion on breastfeeding has long been a contentious debate. Jessica Shortall, a working mother, writes about the subject for The Shriver Report and in this MomsRising post. Be sure to also check out #BlkBfing chat on 2/12 at 7 PM ET, a discussion on the hidden importance of support for successful breastfeeding from family support and nursing in stores to workplace pumping and family leave.  The chat is hosted by MomsRising, Ebony.com, mater mea and Women's eNews.
****
My Friend Got Covered Thanks to ACA!
Marti Woodward is a self-employed, single mother of three who recently became covered under the Affordable Care Act. Her friend, Molly Wingate, details her experience in this post.